Fri, 17 Feb 2006
This is a review of some waterproof connectors from Batteryspace.com.
In it I describe the connectors and how I used them to repair my bicycle light.

The connectors are 2-conductor 18 gauge connectors (part # CN-2Pin-Connect). I began searching for replacement connectors after the battery connector on my Nitehawk Raptor bicycle light became loose. The loose connection meant that every time I hit a bump the light would go out, and I would have to press the power button to turn the light back on. I can't tell you how annoying it is to be riding down a bumpy road, wondering which bump is going to be the one that will turn off my light once again.

I ordered two pairs of connectors, at $3.29 each. Each pair consists of two connectors. The connectors somewhat resemble trailer light connectors. They connect and disconnect easily. I had to get two sets so that I could change the connector on my battery charger as well as the connector on the bicycle light cable. The connectors are not male and female; instead they are identical connectors that connect to each other. They do have distinct red and black wires, which makes the connections easy.

Ordering from the Batteryspace website was easy. I used PayPal, although there was also an option to use a credit card. I received an email confirmation of my order, as well as an email notification when the order actually shipped. The shipping notification included the UPS tracking number, so I could watch the package's progress as it came ever closer.

The installation was simple. I cut off the connectors on the battery charger cable and the bicycle light cable. I soldered on the new connectors and sealed them with heat shrink tubing. Then I opened the battery case, removed the connector, replaced it with the new connector, and sealed it with a hot glue gun. When I was done I had used three of the four connectors, so I saved the spare for for future use.

I made sure the battery charger worked properly. Since the battery provides DC voltage it was important to get the polarity of the connections right. The little red light on the charger came on, indicating that it was in fact charging properly. Once the battery was recharged I unplugged the charger and plugged in the light. Now for the moment of truth. I pressed the power button and the light came on! I quickly reinstalled the light on my bike, and went for a ride over the roughest streets in town. The light stayed on the entire time, not flickering even once. When I got back I sprayed the connectors with a hose, to check if they were really waterproof. They were, and the light stayed on.

I can whole-heartedly recommend these connectors. They are simple to install and use, they really are waterproof, and they have returned my bicycle light to being something that I can just connect and use. Find them at www.batteryspace.com.
posted at: 10:16 | permalink |
Fri, 10 Feb 2006
I have a new mascot on my desk at work.
I found him in the dirt at the Miami Marathon. Now he watches over me while I work, and protects me from harm.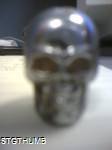 posted at: 17:50 | permalink |
Thu, 09 Feb 2006
We ran the mountain bike trail at Dyer Park.
I was the hare, because it seemed like a good idea several weeks earlier. It wasn't too tough, because I work nearby. I stopped by the ABC store for some beer on the way. I got Milwaukee's Finest, Milwaukee's Finest Light, and Milwaukee's Finest Ice. And some crappy beer, too. I've ridden the bike trail many times, so I didn't actually do any preparation other than looking at a map.
One of the first hashers to arrive was a vision from the past -- Chicken Choker. He said he still remembered how to hash. Then Dry Hump from Boca, the Head, and CA.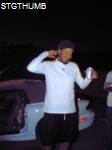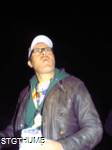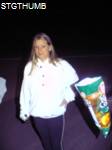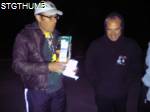 I like to think of this picture as "Before and After".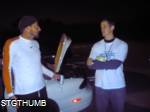 Here's NGB desperately digging through the cooler in search of something acceptable to drink, and CA digging in his ear for, well, I don't know what.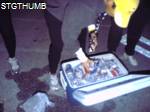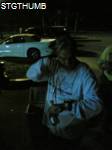 The trail itself went well. I ran the first loop right past the cars, just after the pack had left. I forgot to turn on the GPS for the first part of trail, but I filled it in on the map. DBK almost caught me, as did Yeast. The second half was across some wide fields full of owls.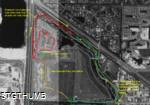 We held the circle out on the sideline of the ultimate frisbee field. We attracted a couple players who came for a beer while they were out of the game. Chicken Choker kept going back and forth between the field and the circle. CA had a lot of trail debris on his pants. Good down-downs by everyone, including Action Man(!).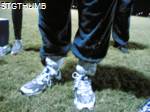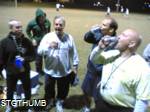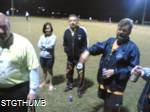 GH left his hat lying around, so I kept filling it up with chips, and Ayla kept eating them. GH eventually drove off without his hat, and had to ransom it back at the bar.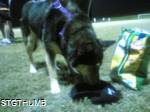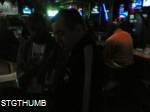 posted at: 22:15 | permalink |
Wed, 01 Feb 2006
CA laid the first annual Groundhog Day hash. Again.
It was a good solid trail tonight. He confounded the hash predictions, by not crossing the bridges over the barrier island, and also by not crossing I-95 in two different places. He did cross I-95 (which means I won the over/under), but he came back over the same bridge. And then a surprise ending at Ralph & Rosies. There was a visiting hasher (Action Man!) from the mother hash in Malaysia, and his wife, who said she was with the London hash. We were concerned that Action Man might be there to report back on the CBH4, so we tried to give him a good circle. Caminito was there for the start, and the circle, but oddly, not the beer check? AI ran a good circle, and never lost control. Possibly a first.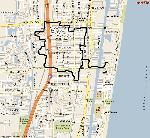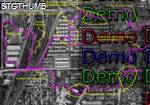 posted at: 23:06 | permalink |
Tue, 31 Jan 2006
Vigin Dick laid Sunday's bike hash after running 26 miles in the Miami Marathon.
It was a lot of fun to ride around Coconut Grove. Grouchypus was there, and so was Hummer and Gator. Grouchy had already run the half-marathon, but he had plenty of energy. And Hummer and Gator and the rest of us had been passing out the beer at the hash beer stop at mile 22, so we had been handling beers since 7:30 am.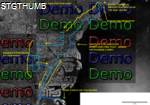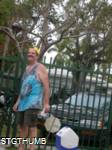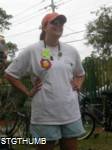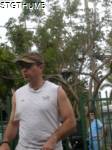 Stop the Bus had given away all the hash beer at the beer stop, as well as all the beer he had bought for the beer stop, so we needed to resupply. But apparently in Miami you can't buy beer on Sunday until noon. So while we waited we watched Virgin Dick model the latest in flour-laying accessories, and get ready to lay trail.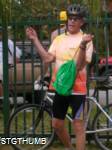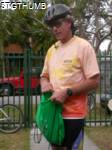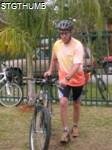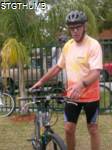 We watched him prepare some more.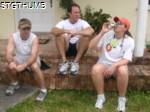 He had some difficulty getting everything set just right.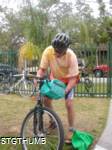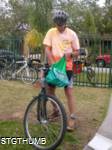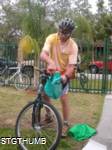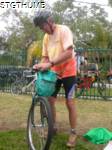 So we kept waiting and watching.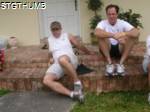 Eventually VD and Stop were ready to go.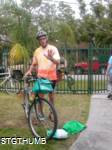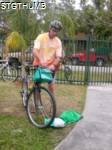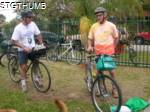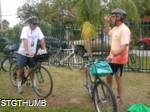 The next hour or so was a long trail through Coconut Grove, and possibly other parts of Miami. VD was laying trail with a single bag of flour, so marks were sparse. Eventually Tuna revealed that she knew the name of the park where the beer check was, but not the location. Fortunately Minator did the location, so he guided the pack there.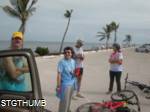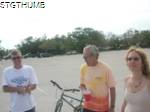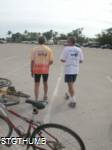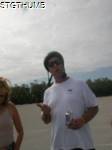 It was a nice park, right on the water. The auto-hashers were there, as were two hashers who had managed to follow trail (Gator? and someone else). Eventually Itsy showed up, as did ASA.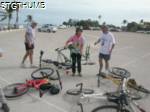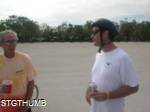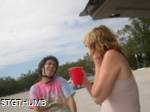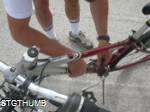 We did bike maintenance, rehydrated, critiqued the trail, and eventually got ready to complete the trail.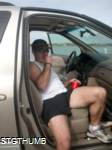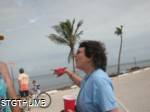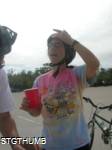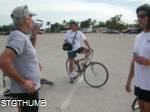 VD and STB saddled up (with a fresh bag of flour) and took off. We gave them three or minutes, and went after them. We finally caught up with them at Taste of the Grove, or something like that. It was a big food and music fest. The pack didn't stay long, but ASA and I saw a Vietnamese food tent, and got some curried chicken and noodles. Mmmm.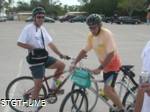 When ASA and I arrived back at the house the circle was in full swing. If by full swing you mean sitting in chairs in the shade, quietly singing down-down songs. We made our way through the rituals, interrupted only by a brief dog fight. There was still beer left, but finally the hash began breaking up. Chew Toy narrowly escaped a renaming to "Jew Toy", but escape he did. We loaded up and drove back up to Palm Beach.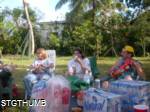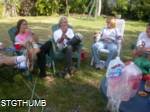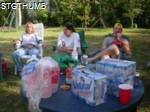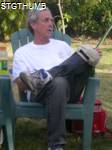 posted at: 11:56 | permalink |
Mon, 30 Jan 2006
Once again the hash came to the rescue, with a beer stop at the Miami Marathon.
We arrived at Stop and Tuna's house at 7:00 am, to find hashers hard at work filling beer coolers. AI was reconstructing the hash sign, complete with giant beer mug and on-on feet. ChewToy and I slipped away about 7:20 and walked down to the course to see the leaders come through.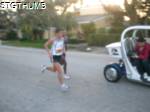 Eventually we got organized and hauled everything down to our planned beer stop at mile 22. We got set up and waited for the racers. While we waited, an irate civilian lady came out of this house and asked us what we were doing, and could we be quieter. Minator explained that there were 16,000 runners in the marathon, and that it was going to get louder before it got quieter. He was very nice and kept calling her ma'm, which discomfitted her.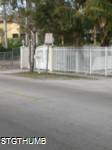 Finally the runners began coming by. We knew the leaders wouldn't stop for a beer, but we were watching for the first runner who would. Minator was out there trying hard, but they just kept going by. We had the sign set up and everything, but the runners went on past to the water stop just past us.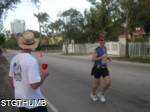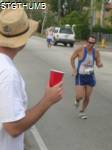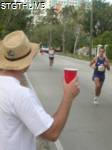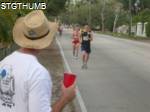 And they still kept coming. See the guy with the one bloody nipple? He woldn't stop. And the woman who was really laboring along wouldn't stop. Finally we saw our first customer in a group of runners. He saw the sign, he saw Minator, and he lunged for the beer. You can see him approacing in the third photo (annotated), and happily leaving with his beer in the fourth one.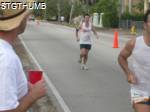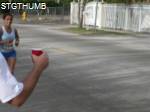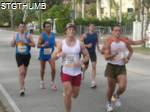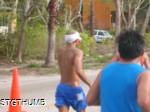 We kept passing out beers. All told we went through five cases (thanks Stop!). We gave beer to a guy on a bike who had run the half, and to more runners. Anal kept pouring, and Minator stood out in the road. Unlike the Palm Beach Marathon, we found that we had to keep yelling "Cerveza!" for our South American friends. I guess when you've run that far, and you don't speak English, even the giant beer mug and the gringos yelling "Beer!" won't tip you off.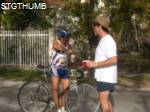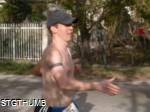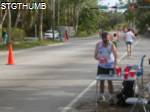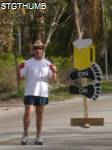 The runners kept coming by. One of the wheelchair racers stopped. He had already passed us, but once he realized what we were offering he spun around and came back. Gator had to help him hold the beer in his gloves. The wheelchair racer was from England, and said that he had done over 100 marathons and finished last or nearly so in everyone. The he held up the beer and said, "Now you see why!". Then he rolled off to do the last four miles by hand.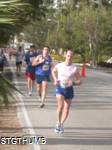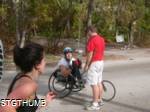 I handed this guy a beer, and he just sat down beside me. Pretty soon he felt better, finished the beer, and got going again. Then Itsy showed up after running the half. He was complaining about something, but he was doing it in that voice that only dogs can hear, so it wasn't too bad.

Virgin D came by, but I didn't get any pictures. The big D pounded the small cup of beer that we gave him, then demanded a full big cup of beer, and set off to finish the r*ce, carrying his beer.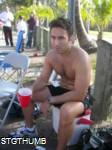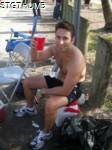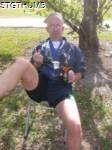 Finally, at 10:30 am, four and a half hours after the start, we ran out of beer. We had passed out (most of) five cases. As we were breaking everything down, a girl who lived across the street with the unhappy woman showed up. Her father had already come out to complain, but I was in the port-o-let, so I didn't have to hear it. The girl wasn't too upset, and in fact it turned out that she had done a bike hash several years ago. "It wasn't very safe," she said. We told her that hashing probably wasn't for her. We got rid of her, hauled everything back to the house, and started getting ready for the bike hash.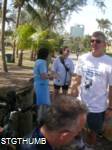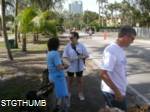 posted at: 23:43 | permalink |
Sun, 29 Jan 2006
Linda has started packing heat.
In a virtual way, at least. She looks as though she's on Main St, somewhere in the old West. If you listen hard, I think she's saying, "Draw, you ornery polecat!".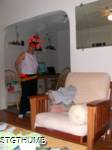 posted at: 05:33 | permalink |
Sat, 28 Jan 2006
We finally went back to the Ft Pierce trail today.
Rob and I had gone up there about two years ago. It was a nice trail, and we were having fun, until Rob broke his chain. I had a chain tool, but no rivets, so we had to go home after riding only half the trail. Then the four-wheeler guys started tearing up the trails, then the land was sold and the new owners chased everyone off, then the hurricanes came through and destroyed everything. So we were excited when we heard the trail was open again, and in a (mostly) legal fashion. Me and Rob and John went up this morning.

We got all inflated and helmeted and gloved and adjusted and hydrated and everything else you do before a ride.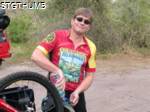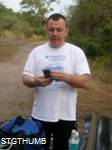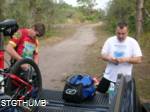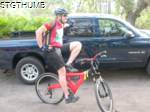 The trail was very nice. Lots of wooden structures, lots of carpet, some twisty trails, roots, and a bit of sand. John took my camera and got a shot of me with Rob. Then he shot one of me crossing a log bridge. I look a little tentative, but I was moving pretty fast there. I returned the favor and tried to take an action shot of John.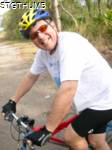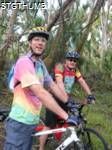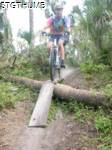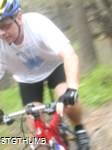 We all went down at least once. The trail was new and surprising, unlike the other local trails that we have memorized. We regrouped at the truck. A pretty good-sized group had gathered in the parking area.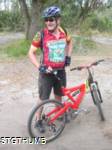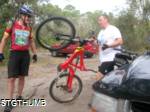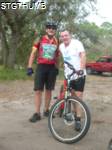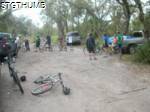 We went back out for a couple more laps. We all crashed at least two more times. John and Rob lost blood, but I just did some faceplants in the dirt. We drank some water, cleaned up a bit, loaded up the truck, and rolled on out.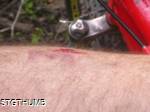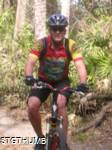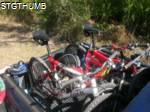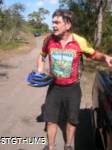 We had decided to stop at Halpatiokee part on the way home, as we'd heard the trails had improved there. Rob and I rode there late last year during a bike hash. The hash had obviously been active there, as we saw a check and some marks, all done in fresh flour. The trails really weren't different from what we had seen before. We did a mile or so of singletrack, then a couple miles of grassy doubletrack. The last time Rob and I had been there it had been muddy doubletrack, so it was a nice change.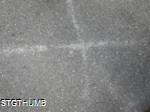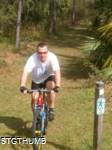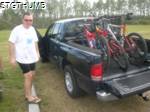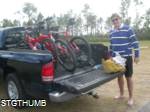 All in all it was a great morning. We rode a new trail, and got reaquainted with an old one. We did three laps of a little over three miles each at Ft Pierce, and just over five miles at Halpatiokee, for a total of 15 miles for the day.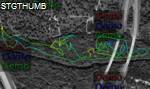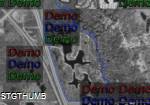 posted at: 19:28 | permalink |
I went to an open house of the new incarnation of the school where I went K-8.
They leveled the campus and replaced it with a monolithic structure. The new layout has very limited access, unlike the old one, which was designed by Addison Mizner back in the 1920's, long before Clebold and Harris made "lockdown" an acceptable word in elementary schools. Inside the new rooms are great. They are big and open and clean and filled lightly colored wooden furniture. And there are computers. Linda liked the art room, but she thought that the solid-looking wooden stools would eventually split. She likes her metal stools better, although I think I remember her saying how hard it was to get a maintanance guy to weld the legs back on when they broke off. The President of the PTA showed me and Linda and my mom around.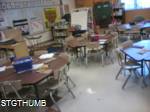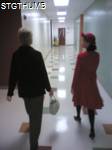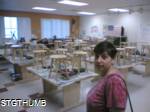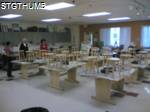 We saw the art room first. Then a couple classrooms, then the music room and the cafeteria. We had bake sales and fundraisers the entire time I was there, trying to get money to air condition the cafeteria. That's the cafeteria where the Cub Scouts met, and where the rummage sale was, and the PTA meetings. We would take standardized tests there sometimes.

We finished up in the media center. That's where the food was. We talked with the principal for a while, and with Kerry's friend who supervised construction. The library that I remember had murals painted on the walls. I don't know anything about them, but I remember them pretty clearly, and they looked like the WPA art I later learned was made in the 1930's, which would be the right time for the school. It is a nice facility.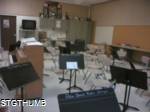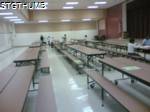 posted at: 11:14 | permalink |
Fri, 27 Jan 2006
Beers after work on Friday. Mmmm.
With two guys who are so coordinated that even their socks match. I'm just saying.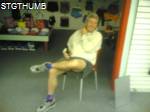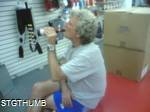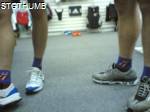 posted at: 21:52 | permalink |
Thu, 26 Jan 2006
HayRideMe and DBK did a pretty good trail last night.
There was a pretty good turnout, perhaps 20 people. Even Bootlicker showed up. We were all glad to hear that he is drinking again. I rode my bike because it was so close to my house. Circumspector was kind enough to bring my hash shoes and a dry shirt in her car. There had been a lot of speculation about how the trail would go, and we were all anticipating a good one. My prediction had the trail going north, and crossing I-95 at Belvedere, while Yeast and CA both had it going south and crossing at Summit. HayRideMe and DBK took their head start, GH counted down 12 minutes, and the pack surged as one.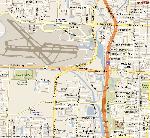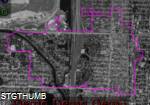 We hit a couple BTs and CBs, but the pack mostly stayed together. All three predictions were quickly shot down, mine more so than the others. The first beer stop was at the Clubhouse Pub, who has seen us once or twice before. AC/DC got there on his hog, but the other walkers arrived on foot shortly after us. Apparently it was okay for us to stand outside on the sidewalk with our beers. I think I was up to 4.7 miles or so at that point.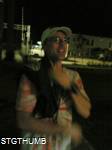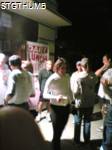 The second half was more of the same. Still well executed, although nobody fell for the wrong-way-pointing arrows that one of the hares (probably DBK) kept throwing. The pack kept a fast pace, and pretty soon we found ourselves at the second beer check, which was a stash of beer hidden by a canal. I had forgotten my flash, so I got this shot of P-rick with my new technique of shining my flashlight in his face. I think I need a bigger flashlight. Once the beer was gone we got moving again, and flew through the last third of the trail.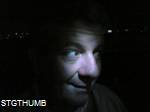 I had the high mileage, with 7.47 miles. I did a lot of bad trails and CBs. Yeast ran the circle, and did a good job. He never really lost control. And there was enough beer. We finished up quick, because the overpass back over I-95 was going to close at 10 pm for construction, and that's how you get to the bar. I skipped the bar and rode my bike home in the rapidly dropping temperatures (oooh, 50 degrees, so cold). Before I left, I got this picture of AD and PS, by illuminating them with the bike light. That's them lit up with 10 watts of 6 volt power.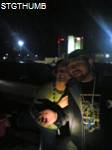 posted at: 07:14 | permalink |
Wed, 25 Jan 2006
I played my first game of horseshoes a couple weeks ago.
I do have some recollection of throwing horseshoes around in the past, but this was the first time I have played with regulation horseshoes and stakes and poles. And with people who know the rules. It was fun, but not pulse-pounding, heart-racing fun. It was me and Rob, versus Jason and Jason's cousin. We lost all three games. Oh, and just ignore that finger over the lens in the third photo.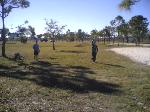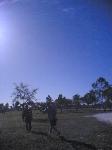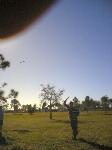 posted at: 07:21 | permalink |
Tue, 24 Jan 2006
I put the rigid fork on my bike last nigh.
It's a Kona Project 2, previously described here. I only ride the bike on the road, so I thought I'd replace the suspension fork with a rigid one, in the interests of lighter weight and more precise steering. I bought the Kona because it's suspension-corrected, meaning that it's taller than usual, so it will be the same height as the suspension fork it's replacing. When I actually measured it, though, the Kona turned out to still be about an inch shorter than the Manitou suspension fork it's replacing. That means the handlebars will be about an inch lower, and the steering angle will be a little quicker. Anyway, I did the swap pretty easily, and found that the bike fits just fine. If anything, it seems to be more comfortable, which is odd. I just did a quick test ride around the block, but I think the bike is ready to ride to Wednesday's hash, which is located close by. The next change is to install the 53/39 road crankset I got off eBay recently. Oh, the old fork weighs 1454 grams, as opposed to the 792 grams of the new one. And that's before I cut a couple inches off the steerer of the new one. So that means I dropped 662 grams, or more than 1 lb 7 oz from the bike. Not bad.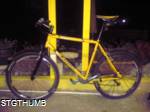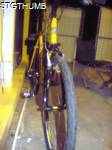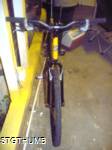 posted at: 07:18 | permalink |
Mon, 23 Jan 2006
Chris got me a plate for the scooter.
He got it a few months ago, and just handed it over on Wednesday. Since the scooter is out in his shop I haven't decided what to do with the plate yet. It's from Vermont, but that doesn't give me any ideas. Maybe it would look good on my mountain bike. Or on the chopper, once that is on the road.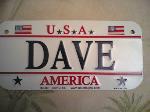 posted at: 07:28 | permalink |
Sun, 22 Jan 2006
Linda and I met Sheldon and Rasheeda (sp?) at Elwoods on Saturday night.
I don't think I've been to Elwoods since around 1993. I amused myself by taking pictures using the candle as lighting. Rasheeda was pretty impressive. She's six feet tall and has a cool Dutch accent. Linda seemed to hit it off with her. They were laughing about something all night long while Sheldon and I discussed important things like football. Then we went to Bru's Room.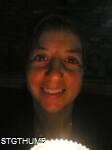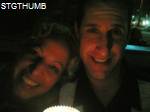 posted at: 21:09 | permalink |
I ran the Race for the Cure yesterday, in 27:05.
That's a pretty good time for me, but there's still lots of room for improvement. The event was really big and well-organized. I rode my bike down there, and pulled up at the bicycle valet area, run by the Safe Bicycling Coalition. They parked my bike and gave me a claim check, and I tipped them a buck. The amphitheater was already filling up. I saw Tim there. He said he was going to walk.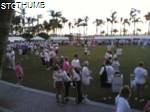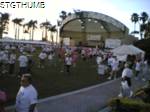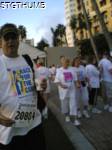 I picked up my ChampionChip and ambled over toward the starting line, where I ran into Bill, who I hadn't seen since Steve and Margey's wedding. And CA, and a bunch of other hashers. There was a whole bunch of other runners there as well.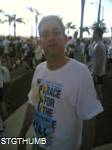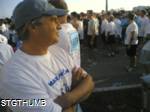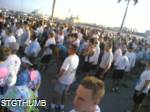 The race itself was uneventful. I did grab a cup of water, but I didn't stop. I varied between an 8:00-9:00 minute pace. I think with more training I can cut my time significantly. There were spectators and cheering throngs everywhere. There was a group of hashers near the finish line, including Linda.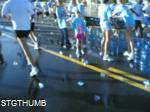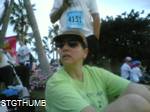 The finish line group wandered up onto the side of the amphitheater for some post-race beers and bagels. We watched the walkers leave for their event, and graded their technique. Drib was there, and his little dog, too. The little guy was content to ride in a bag for while, but eventually he insisted on being on the ground. Eventually we broke up and went home, but not before making plans to see Sunday's playoff games. Oh, and on the way home my bike tried to kill me, but I think I mentioned that already.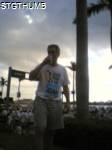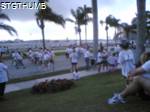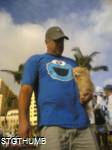 posted at: 11:37 | permalink |
Sat, 21 Jan 2006
My bike tried to kill me today.
Or at least it tried to stick my seatpost up my butt. I was riding back from the race, just riding along&reg, when suddenly the seat fell off the post. I stopped safely and looked at, and the seat was just hanging loose, held on only by the straps of the under-seat bag. I found that the clamp bolt had broken, failing in tension. It was obviously related to the events of last week, when I asked the mechanic at the LBS to tighten in, and he really had to crank down on it. It had been tough to tighten before, so I don't think it was their fault. I replaced it with a $10 post from the LBS. I didn't think to weigh it before I installed it, so I don't know if I gained or lost weight. The replacement post was longer, and felt heavier, and wasn't a name brand like the Kore that failed, so I suspect my bike is heavier now. I'll have to find something light on eBay.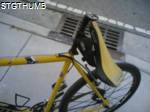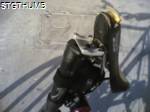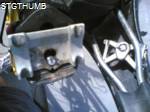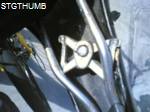 posted at: 14:38 | permalink |
Fri, 20 Jan 2006
Does anybody recognize this Aston-Martin?
I was driving home the other day and almost plowed into the back of it. Then I realized it was probably worth more than my house, so I tried to be a little more careful, and give him some room.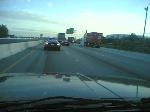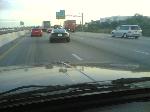 It was rush hour, and he was in the wrong lane, so I was able to change lanes and try to get some pictures. I couldn't see any badges or nameplates, so all I know is that it was an Aston Martin of some sort.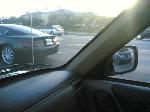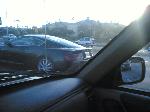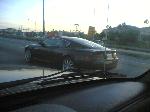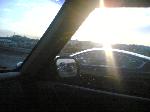 Then I saw that up ahead there was a Ferrari. Just chugging along in rush hour traffic. I assume he was with the Aston Martin, but they didn't seem to be trying to stick together. I couldn't get close enough to identify him, either.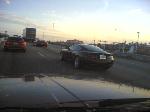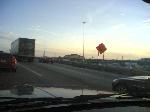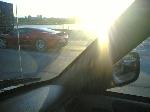 posted at: 07:14 | permalink |
Thu, 19 Jan 2006
We went to Linda's art show tonight.
It was down in Delray. It's the annual art teacher's exhibit. This year she had four pieces on display. The exhibit is in an old schoolhouse that is now a museum. The oval piece is a ceramic piece that she glazed to look like a landscape. And the piece in the third photo is called "Ticking Clock".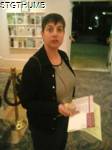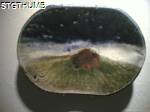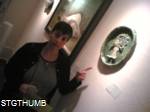 The crab is a watercolor by another art teacher. I like it. The pieces in the second picture didn't come out too well, but one is a digital photo, and the other is a collection of boxes. The third photo got washed out by the camera phone flash, but it's Linda pointing the those two pieces. And the fourth shot is Linda explaining that the brown sign is not an ironic statement, but is actually the sign for the ladies' room.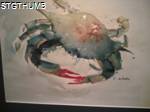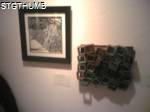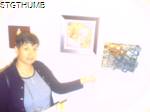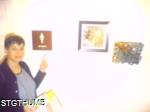 When we got home I rode my bike down to Clematis, and saw a bunch of hashers there. Here's GH and SN. They seem to be at the optimal distance for the flash.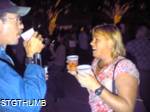 posted at: 22:35 | permalink |
What great turnout for PC's run last night.
There were thirty people there, maybe more. Lots of people we hadn't seen in a while. The hash forum had been active with various trail predictions. I think that Yeast and DBK were closest, with me third, and CA not even close. Below is my prediction, and the trail I actually ran. Note that I don't say the actual trail, as I probably spent more than 50% of the distance ranging around looking for trail.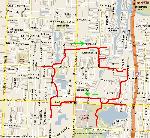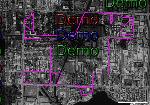 I remembered to bring my camera phone flash, so I was annoying everyone by taking pictures. Here's Stinky in a pictures that's illuminated a little too well, as opposed to the last picture I took of here, where I lit her up with a flashlight. Spin came out for the first time in long time, and Grandmaster CA was jamming to his own private tunes.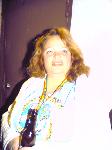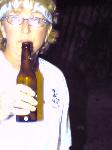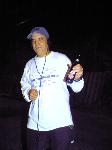 Princess showed up in her new Hummer H2. It's big. Really, really big. It's a land behemoth. It's big. Also pictured: your hare, PC. The run started in front of PC's warehouse. Two doors down a band was playing, so after the run a couple of us heard a Sublime tune, and walked on down to watch.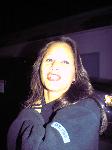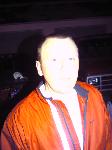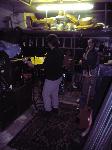 Mr. Bush and HayRideMe had brought yet another virgin from their (hopefully) endless supply. Christine wasn't completely sure about the hash, but she did a good down-down. No joke, song, or body part, though.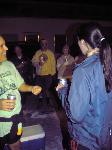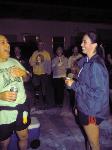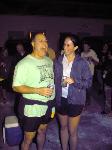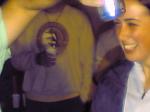 Patch and Retracted did a down-down as we chanted "one if by land, two if by sea". Ha Ha. And then the band came out for down-downs. Three of them put their beers down fast, but the fourth one just couldn't do it. I think he was the drummer.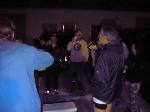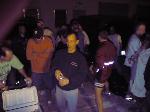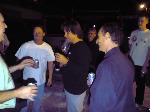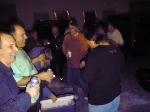 Dribble arrived late, in a van nearly the size of Princess' Hummer. Nobody gave him a hard time about wearing a shirt that looked like it was from the Cuban national bowling team.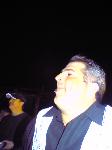 posted at: 07:24 | permalink |