Tue, 14 Mar 2006
We set a new jello shot record last Friday: 1600 shots.
This was in preparation for the St. Patrick's Day parade the next afternoon. It took a lot of work, and that was on top of building the float for the parade. When I arrived the kitchen crew was hard at work, CA was loading the shots in the refrigerator, and P-rick was supervising.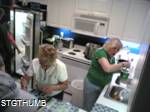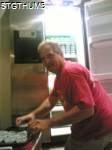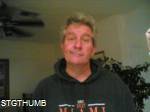 There was a propane burner set up outside to boil water in a really big pot. Once the water was boiled Mama would mix in the jello and vodka, and then start filling the shot cups.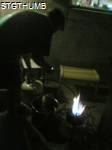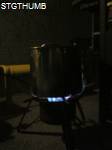 AI was anxiously observing as the refrigerator got fuller and fuller. We just kept packing them in. There were a lot of empty cheap vodka bottles on the counter. I don't know what the total vodka requirement was.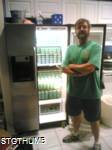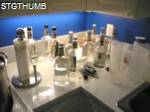 We finally finished about 11:00 pm. We had prepared 1600 shots for the next day's festivities. The fridge was packed about as full as it would go. And Plop was happy.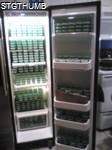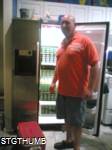 posted at: 07:08 | permalink |
Mon, 13 Mar 2006
Me and Rob went out shooting on Sunday.
He has a new (to him) Browning Hi-Power pistol, and he wanted to shoot it some more. So we loaded up and headed to the western part of the county. On the way we stopped at the Wal-Mart superstore, where we were each able to get 100 rounds of Winchester hollowpoint 9 mm for about $10, and I got a box of 50 .44 mag for around $11. Rob had a box of clay pigeons, so we didn't have to buy targets. After driving for a while we got to the shooting spot. It's a secluded area in the cane fields, on a power line easement, which makes it public land. There was plenty of evidence of previous shooters, as the ground was carpeted with shotgun shells and brass. There was even what appeared to be a riding lawn mower, but as it was more holes than mower it was difficult to tell for sure. Rob set up the first round of clay pigeon targets while the power lines buzzed overhead. You can see the orange dots of the targets in the third photo.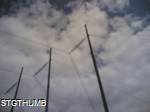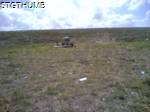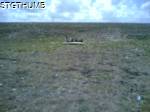 Rob had the Browning, as well as a .357 revolver with a 2" barrel. I had brought a S&W Sigma 9mm, and the Ruger Blackhawk .44 magnum with the 7" barrel that Rob had foolishly sold to me years ago. It's a ludicrously impractical gun, but it's appealing just because of its freakishly large size. You can see the Sigma in its holster in the third picture, and the .44 lying in the grass in the fourth. Its size isn't really apparent in that shot.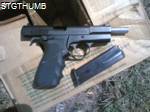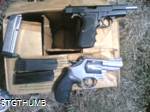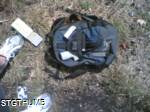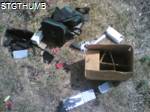 Once the targets were set up and the magazines loaded we began blazing away (after donning eye and ear protection, of course). We were about 50-60 feet from the targets, and we were both satisfied with our marksmanship. Rob had placed some of the clay pigeons on the remains of the riding lawn mower, and some of them slipped down behind it as their brothers were shattered. No matter. With the .357 and .44 we simply shot right through the mower to hit the targets. Cool. As we were down to our final rounds I found what appeared to be a piece of bank glass. It was about 4"x6", and it was 1" thick. It shattered satisfactorily when hit by the .357. After that, we loaded up and headed for home, where I performed my sometime Sunday night ritual of cleaning guns and watching the Simpsons.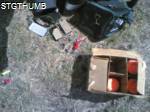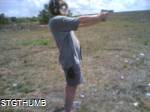 posted at: 07:14 | permalink |
Sat, 11 Mar 2006
I saw what looks like a mid 90's Ford Bronco with the top cut off today.
If you look closely at the baby head stuck in the bumper you can see that it has two different colored eyes. I think that's a nice touch. The truck looked like it runs; it was parked out in front of an auto repair shop. I'm not ready to trade in my Cherokee for it, though.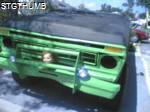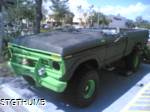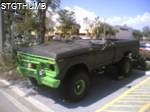 posted at: 21:52 | permalink |
Fri, 10 Mar 2006
AI did a comeback trail Wednesday night.
I don't think he's done one for a while. It was out at 10 Ave N and Jog, so we all had to assume that he would be running through the mountain bike trails at Pinehurst. Well, you know what happens when you ass-u-me. Instead the trail went in the opposite direction, on some golf courses and parks, and eventually to a nice halfway in a parking lot next to a Red Lobster. We socialized and blew our whistles, and eventually everyone came in. Then we had an uneventful second half back to the cars, and a slow, methodical circle. Lots of old and new faces there (I counted 23 people). Virgin Chris was there, announcing he would be doing his naming trail soon. And NJF/C&P got a new name, but I forgot what it is. You can compare the prediction and the actual trail below, and see just how far off I was this week.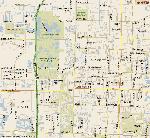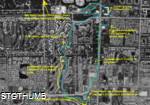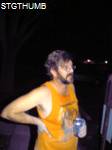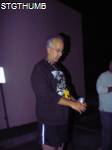 posted at: 07:24 | permalink |
Wed, 08 Mar 2006
I'm on the second page of a Google vanity search.
I saw this on Sheldon's blog and I had to try it myself. When you google for "Dave Wilson", this website shows up as the top link on the second page of results. I'm so close to page 1 that I can smell it. As Captain Kirk would say, "Must break ... through ... this barrier". Or maybe that's DuffMan.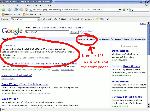 posted at: 07:17 | permalink |
Mon, 06 Mar 2006
I bandited the Bike Week hash this year.
Maybe "bandited" is the wrong word, as that sort of implies that I didn't pay. It might be better to say that I did it ala carte. I've been to a lot of Bike Week hashes, and while they're fun, they're always the same. So this time we decided to spend most of our time looking at motorcycles. We did do the pub crawl on Friday night, but we made sure to buy our own drinks, instead of drinking on the hash's dime.

After the evening's festivities had concluded, Oil's Well and Canal Entry (and friends) came up to our room for a nightcap. And they brought their little dog, too. In the first picture Canal models the latest in dog purses, and in the second we see the entire happy family. The dog weights less than three pounds.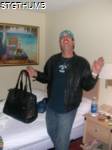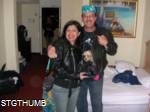 I didn't see much of the hash until Sunday morning, when I ran into Itsy and his latest girlfriend sunning themselves by the pool. Oh, and AI was there in his finest pajamas.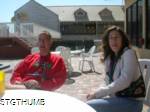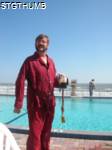 After that I took my leave of the hash, and wandered down Main Street with Howard. I got a call from AC, saying that he would be riding down, and could I take a picture. I practiced my framing on these guys.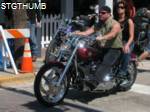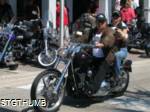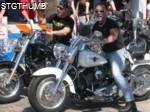 Finally we saw him approaching. In the first picture you can see him a long way off. His passenger has her head turned. The second picture is a little better, but still fuzzy. And his passenger is still looking the wrong way.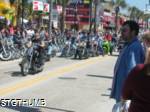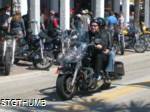 posted at: 11:04 | permalink |
Sun, 05 Mar 2006
I was in Daytona for the first weekend of Bike Week.
I was staying in the Mayan again, with Howard and AC. There weren't too many Brokeback Mountain references.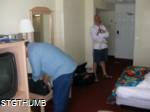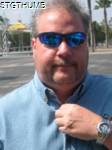 On Saturday we headed over to the Speedway, where dozens of vendors and manufacturers had set up. The first things we saw were these cute little three-wheelers. There's a motorcycle under there somewhere. They didn't look quite as cute once we found out they sell for about $50K.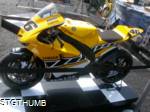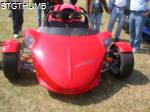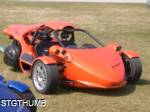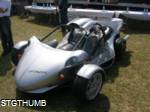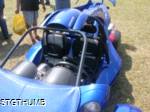 I had no idea there were that many trikes out there. Lots and lots of big-displacement bikes that have had the rear wheel replaced by an axle with two wheels. I could never see for sure if they had a differential or just a solid rear axle.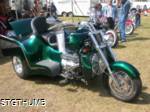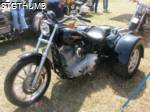 One thing I really wanted to see was some Ducatis. There were plenty of them in the parking areas, but only two at the Ducati tent. Maybe they are going to bring more in later in the week.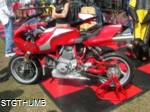 I was really taken with the air filter cover the first time I saw it. But it lost part of its appeal after I saw it on bikes all over the show. Here's a different take on the trike theme: chopper trikes.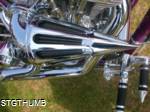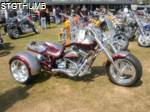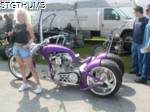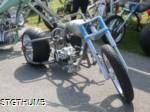 Howard and AC continuously debated the merits of various bikes. They liked the chrome and the paint. I kind of like this one, that looks like it hasn't been cleaned since it rolled off the assembly line.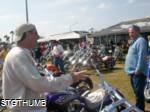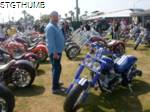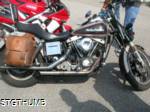 This thing was just freaky. It's powered by a small gas turbine engine. It's about 20 feet long. It's not the greatest construction, as it looks like it was put together out of angle iron with a mig welder. Along the same lines, I saw a supercharger on a bike for the first time.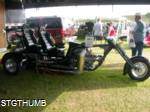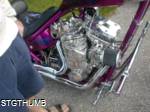 For some reason the paint scheme on these intakes looks really good to me. The rest of the bike is painted the same way. It's patterned after a Rolling Stones album cover. On the way out we saw a bare-bones trike. It looks like it might have used a Servi-Car as a donor. There was some interesting engineering involved.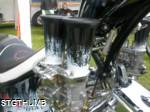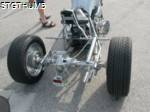 posted at: 22:37 | permalink |
Thu, 02 Mar 2006
We had three (3) virgins at the Wednesday night hash.
I am really liking this infusion of new blood. Plus Itsy's slutty girlfriend came back out, plus NFHN Chris and several other unnamed people returned. There was a little confusion about the start location, since the street sign was down, and "turn left just before the RR tracks" was not clear enough for some people, but we still had 23 people show up. Including Kunta Kinte.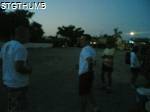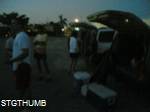 I had a good time laying the trail. The begining looped back around past the start. I always like doing that. And every check had at least one bad trail, and often had two. On the first half I got to the beer check with about ten minutes to spare. On the second half I didn't throw as many checks, and I could hear the pack behind me. I got in about two minutes before the FRBs.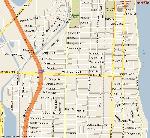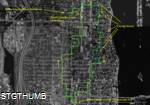 The beer check was at the Clubhouse Pub (good guess, Yeast). They weren't expecting us, but they quickly rallied and provided us with pitchers and cups. The owner did emphasize that I should call first next time. I like the rules they have posted in the bathroom. Especially the last line.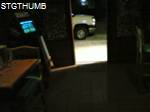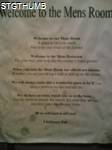 The circle went pretty well. Things were moving right along, but we could see the concerned neighbors standing about a block away, talking on their cell phones. Eventually the two police cars showed up and made a pass by with their spotlights. Eatapus was elected to talk with them, and he must have done a good job, as he came back and reported that the cop had said, "I'm not going to tell you to leave, but could you keep it down?". Yay WPBPD! We did keep it down, a little, and pretty soon we wrapped it all up. But not before awarding a name to Itsy's slutty girlfriend. She had been referring to herself as Nurse Jellyfinger(?), but we annointed her [no, I'm not going to write that in a family-oriented blog]. Then the circle ended, the pack went off to Flannigans for some nourishing fried food, and I went home. The end.
posted at: 09:22 | permalink |
Wed, 01 Mar 2006
I'm a little late posting this Valentine's Day update.
Linda got us these great cake hearts for Valentine's Day. Then she tore my heart in half and ate it. No, I'm kidding. But those hearts were pretty good.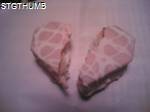 posted at: 07:11 | permalink |
Tue, 28 Feb 2006
I really like the new Lotus.
I think it's called the Elise, but there are lots of variations. The first one I saw was a track-only model, but I've seen a few on the street since, like this one. This one was parked at the Publix on Sunday morning. Mmmm.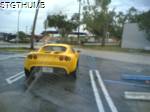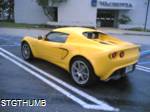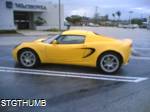 posted at: 07:11 | permalink |
Mon, 27 Feb 2006
Check out this cool wrench that Linda found.
And, by droit du seigneur, it is now mine. Mostly because she doesn't want it. She found it in the circle area of the bike hash last week, and stuck it in her Camelbak. As we were leaving, there were two people struggling to get a bike into their car. They couldn't get the front wheel off, because the quick-release skewer was too tight, and wouldn't come off by hand. So Linda says, "Maybe I can help", and reaches back into her Camelbak and pulls out a 14" Stillson. Cool.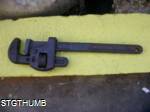 posted at: 22:53 | permalink |
Sun, 26 Feb 2006
I've been doing a lot of baking lately.
Mostly baugettes, but also some coffee cakes. The baugettes are fun, but it's tough getting them just right. I've been fiddling with different types of flour and yeast, and the temperature of the water. I've been having good luck with putting the dough in Linda's car to rise. It's warm, and there's no draft there.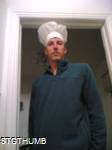 posted at: 14:12 | permalink |
Pub crawl in Lake Worth!
With the Head as our mistress of ceremonies. We met at her house, where she had lots of cheap beer stockpiled. Itsy was there, of course, but also two people I haven't seen for a while: OP and SumBitch. We couldn't tell which one was shorter, so we had them stand back-to-back, and SumBitch won by about an inch.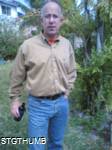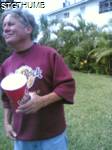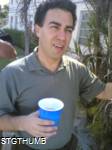 Lots more people showed up, and we got underway. The first stop was the Hawaiian cafe on the corner of Lake and J Street. There were two Hawaiian guys playing guitar, and two wahines dancing what looked to be an authentic hula. And the Head bought pitchers for us. There was also a freaky dude with some prison tatts, and a guy who had a stuffed dragon on his shoulder.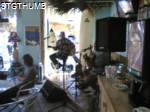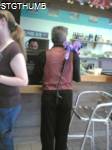 The streets were full, as it was the weekend of the Street Painting Festival. As we made our way to the next stop I saw a guy drawing a frame from Calvin and Hobbes. There was lots and lots of other artwork as well.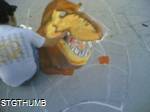 Second stop was Ray's, where we were able to stand in the alley beside the bar and have them bring pitchers out to us. NotHung arrived, SN showed us how she could stretch her arm like Dr. Octopus, and Itsy's slutty girlfriend showed up. Oh, and OP was still there.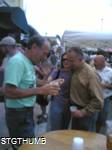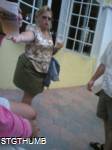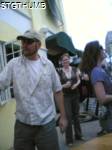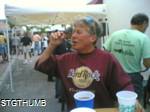 The next destination was the Lizard Bar, but I took a detour to see my friend Sheldon. He was working with his friend Doug. Doug's a marine artist, and he had a pretty good marlin going. Or maybe it was a sailfish.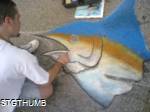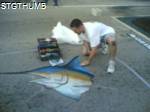 I said my goodbyes, and headed to the Lizard, but I was interrupted by a dog fight. It was a miniature dog fight, between two miniature dogs. They got all tangled up, and there was a lot of yapping, but no blood. One of the owners did have nice thong, though.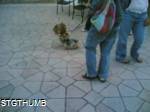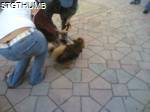 The Lizard was hopping. There were two singer/guitarists, doing singalong songs. So we sang along. And danced. More beer, and more dancing. Sheldon stopped by for a bit.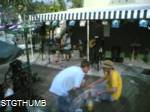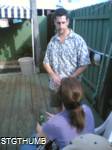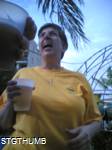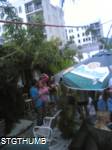 I don't have any more photos, but from what I remember it went:
GH's house for a safety meeting
AI's house for some homebrew
The Head's house for Big Light and a lengthy circle
And so on

posted at: 14:05 | permalink |
I think taggers hit my bathtub.
No, it was Linda. When I jumped into the shower one morning last week I saw this happy fellow looking at me. So I stepped on his face and washed him away.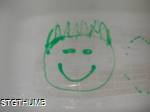 posted at: 12:51 | permalink |
Sat, 25 Feb 2006
My cow-orkers were doing some building maintenance.
Actually it was just that the plastic cover on one of the lights had fallen down. Fortunately they were able to repair it.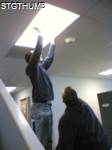 posted at: 11:41 | permalink |
I've always wanted to cut the roof off a car.
Sort of a do-it-yourself convertible. Except it wouldn't convert back into a car with a roof. I saw this guy in traffic last week driving a car like that. It hasn't rained here for a few weeks, but I don't think that's going to last. I hope he has a raincoat in there somewhere.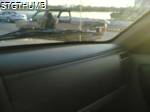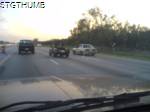 posted at: 11:31 | permalink |
Fri, 24 Feb 2006
News Flash: Itsy Bitsy Begins New Career As Sunscreen Model
Film on one of those naughty internet sites.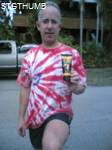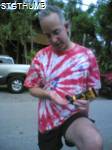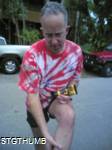 posted at: 07:31 | permalink |
Thu, 23 Feb 2006
Two thumbs up for the super-secret beer check!
Yeast promised, and he delivered. The hash started at Forest Hill and Military. No GPS map, because I forgot my GPS (d'oh). I do have my prediction map, though. There was a good turnout, over 20 people. Trail was pretty good, mucho off-road, and lots of canal banks. And then there was the SSBC, which turned out to be a combination laundromat/bar. I'd heard of these, but never seen one.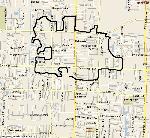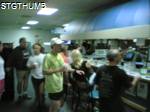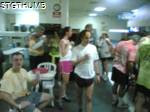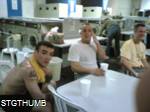 We hung out in the laundromat for a bit, and then set off for the second half of the trail. The first half was 3.3 miles, and the second half was closer to 1.5 miles. The pack finished pretty much as a whole, with DBK and visitor PS Knave fighting for the win. PS bears a striking resemblance to Biko, and the two of them had to drink for it. The lens was dirty for the first shot, so you don't get the full separated-at-both effect, but trust me.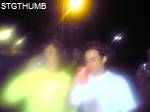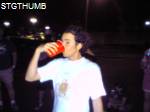 GH did his patented "awesome" song, and Eatapus (happy mode) was there in full flight's regalia. When he says "This is your captain speaking", it makes you want to put your tray table and chair in the full upright position. The on-after was at the Wing Hut, but I skipped that to go home and watch the ice dancing on the Olympics.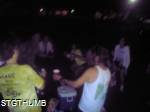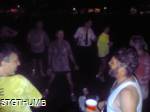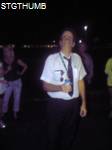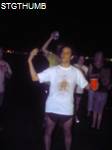 posted at: 07:18 | permalink |
Tue, 21 Feb 2006
I ducked back down the alley with some roly-poly little bat-faced girl.
Actually, it was Rob. We were downtown in Lake Worth last Friday, heading to the Dwarf, and I said, "Hey, we can cut through this alley here". Perhaps not the best idea, but I had been through there before (in daylight). It was really dark, but I had the bright idea of using my cell phone display as a flashlight. Worked great. As we came out onto Lake, there were two girls smoking and hanging out. One of them said, "Where did you come from?", and the other said, "Hey, there's people having sex in there". Rob was convinced they were working girls, but I don't know. At 8 pm, downtown, in an alley(!?).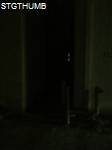 posted at: 07:23 | permalink |
Mon, 20 Feb 2006
The Florida Interbash bike hash was an unqualified success.
It had cops and firetrucks and skydivers and beer and shiggy. We drove up to Sebastian on Saturday morning, and got there around 1:00 pm. The hares and most of the hashers were already there, busily drinking in the the alcohol-free park. They had already had one cop encounter, but we missed it.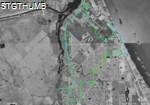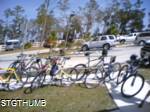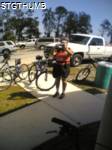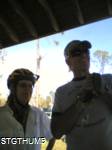 We got a nice chalk talk from Eatapus (non-grouchy flavor!) and the hares were off. After a short head start we pursed them. The trail wound through the campground, and then on to the streets. I took the eagle portion of the turkey-eagle split, and got to see the sunbathing girls by the water. Then it was a long ride though some nice muddy shiggy, and surprise, the first beer check!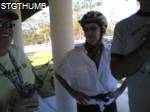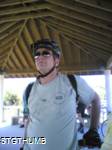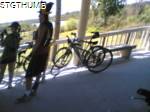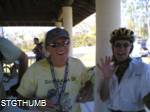 We stood around for quite a while at the beer check. The pack compared injuries and different levels of dampness. Finally we got rolling again. The second portion of the trail left the shiggy and ran along the water for a while. We passed by a bunch of appreciated motorcycle riders. Then some neighborhoods, and surprise, the second beer check!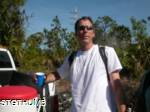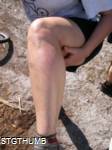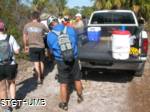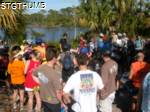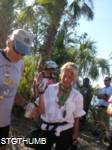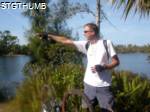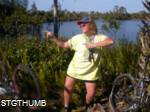 The second beer check was just as good as the first. I got to watch one brain surgeon try riding over a traffic cone. He wasn't injured too badly. SMD was able to repair a broken bike chain with his handy fixit tool. We had some more beers, and rolled on out for the third part of trail.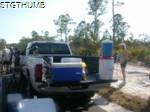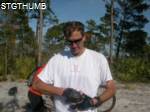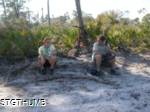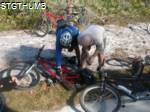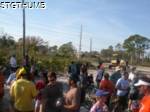 The third part of the trail was much like the other two, with flour and checks and stuff. Eventually we made our way into a secluded wooded area near the start. It was right next to the airport, so we got to see skydivers overhead the entire time we were there. We had a nice Eatupus-style circle, with plenty of down-downs and accusations. Then the hares fired up the grills, and it was burgers and dogs for everyone. Also beans, coleslaw and orange cheesy food.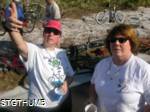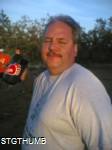 Finally we ate all the food, and things wound down. The hashers who were going home went home, and the hashers who were staying went to the campground, where the evening's entertainment awaited (insert foreshadowing here). Circumspector and I joined Chewtoy at the airport's campgound. The hash camping area was pretty full, as well as having a no alcohol policy. Also a be very quiet policy, and a no having fun policy.

So Circumspector dumped out the tent and we began to set it up. Then we realized that one of us had forgotten the poles. So we drank some more of Chewtoy's beer, and rode our bikes over to the hash campground to see what might be happening.

What was happening was noisy fun involving alcohol. After socializing with Plop, SN, and SMD (and drinking some of their beers) we made our way to hash central, where Just Puke was organizing a shooting star run. He marked the trail with some glow-in-the-dark planetary objects. I forget what the drink at the first stop was, but it had some kind of alcohol in it. The second stop was PPP, and the third was yucca. As we stood around drinking our yucca, the two sherriff's cars rolled up on us. It was the usual: we claimed to be a church group, and they gave us a warning. It was pretty much a formality, because everyone there (cops and hashers alike) knew they would be back.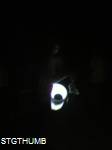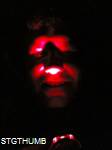 They left, and as we all stood around pondering our next move, my cell phone rang. It was Chewtoy: "there's a big brush fire over here, and you'd better come move your truck". Fine. So I pedaled back over. It was a pretty small fire. Anal arrived not long after me, and he walked over and stomped most of it out. Then the firetrucks arrived, and after some deliberation the firemen hooked up their hose and put out the fire. Then they left, and the excitement was over.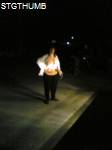 There was a perfectly good campfire at the airport campground. There was also a tiki bar, but it was closed, but we had our own beer. So we sat around there for a while. We had creeper races, with the wheeled creepers the skydivers use for practice, and we watched the drunk guy try not to fall in the fire, and some more of the hashers showed up. We had a fine old time.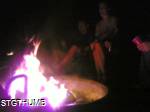 Eventually the party broke up, with most of the hashers heading off to some local bar (Ernies?). We decided to just drive on home, since it was only 90 miles. We got to sleep in our own bed that night. The next morning I got a call from Anal, giving me a full report. He and G8rh8r were the only ones who had not been kicked out of the campground.

The sherriffs had returned (surprise!). Puke had fallen asleep in his tent, with his arms wrapped around the keg, and the tent flap open for all the non-hashers to see. That was the first thing they saw. They sent Puke and everyone near him on their way. Then they inspected the coolers at the rest of the sites. As you would expect, there was beer in them, so all those hashers were politely asked to leave. Anal and G8rh8r were the only ones smart enough to hide their beer in the bushes, so they got to stay. I plan to nominate them in the "I fought the law and I won" category at this year's Hash Awards.

Anyway, we all had fun, and nobody went to jail that I know of, and we'll do it again next year.
posted at: 18:23 | permalink |