Mon, 06 Mar 2006
I bandited the Bike Week hash this year.
Maybe "bandited" is the wrong word, as that sort of implies that I didn't pay. It might be better to say that I did it ala carte. I've been to a lot of Bike Week hashes, and while they're fun, they're always the same. So this time we decided to spend most of our time looking at motorcycles. We did do the pub crawl on Friday night, but we made sure to buy our own drinks, instead of drinking on the hash's dime.

After the evening's festivities had concluded, Oil's Well and Canal Entry (and friends) came up to our room for a nightcap. And they brought their little dog, too. In the first picture Canal models the latest in dog purses, and in the second we see the entire happy family. The dog weights less than three pounds.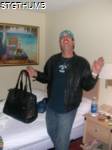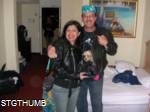 I didn't see much of the hash until Sunday morning, when I ran into Itsy and his latest girlfriend sunning themselves by the pool. Oh, and AI was there in his finest pajamas.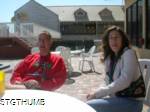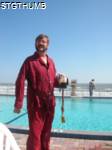 After that I took my leave of the hash, and wandered down Main Street with Howard. I got a call from AC, saying that he would be riding down, and could I take a picture. I practiced my framing on these guys.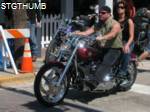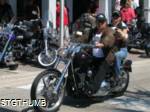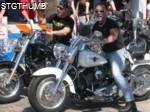 Finally we saw him approaching. In the first picture you can see him a long way off. His passenger has her head turned. The second picture is a little better, but still fuzzy. And his passenger is still looking the wrong way.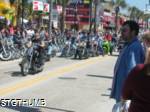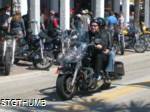 posted at: 11:04 | permalink |