Sat, 17 Jun 2006
Me and HIV ran with the Atlanta hash today.
That's hash number five on my quest to run with all of the area hashes while I'm up here. Although I just heard today about the Bear Creek hash, which means I have another one to cross off. But I digress.

Today's hash was hared by Coffee Bean, aka Headlock. It was at some closed strip mall off Howell Mill Rd. There was a pretty good crowd as we walked up. Soon Bean began to give the chalk talk and demonstrate his marks. Nothing out of the ordinary. Then people went back to running their mouths for a while, and then we were off.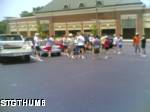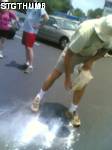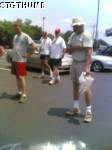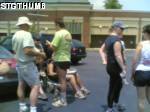 Surprisingly, the marks did look just like Bean's examples. We were running through some sort of construction site. You can see the army virgin dude (or maybe he was a marine) running ahead of me.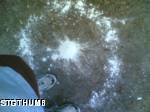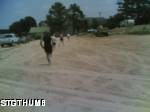 Then we did some railroad track, and a creek, and all too soon we were at the beer stop. The beer stop was at someone's house. Bean brought out the good beer (Heineken) and gave directions for the second half, and pretty soon we were off again.


The second half was something of a blur, although the photographic record shows that we ran past some kind of transformer substation or something. In the second shot you can see HIV trying to match my blistering pace.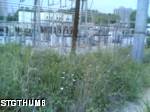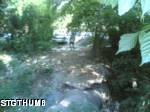 And then something really strange happened to the trail. Bean's marks had been easy to follow all day, so when we came to a check that had only a YBF off of it, and nothing else, we were really confused. The pack looked and looked, with no luck. Finally Bean himself showed up, and said that the YBF was really a BN(?) and gave us directions to the end.

At the end (which was at a pool) we got the full story. While laying trail Bean had encountered a fat girl, who told him he was on private property (he wasn't) and to stop throwing flour (he didn't). He explained the hash to her, wrote the BN, and left. Apparently she then went inside, Google'd the hash, read up on the marks, and then came back outside and wrote a YBF just past the BN. Beeyatch.

It was nice hanging out at the pool, and the actual residents there didn't take too much offense to us. You can see, from left, Bean showing how high he can raise his arm, Assh*le talking about the glory days, army/marine dude looking on (he didn't say much) and some hasher with man boobs (didn't get the name). Good times.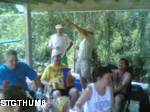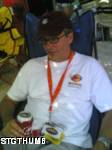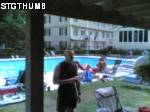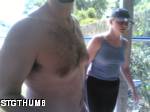 Finally the circle was called to order. Some bimbo whose name I forget (but it wasn't Skin Flute) did a nice job of running things and singling out the private partiers. Me and two hashers from Texas (forgot names) were recognized as visitors, and HIV paid the price for being away for too long (lots of others also). Then some random down-downs, and then the naming of the airline pilot guy. What kind of name is "John Denver"? Just because John Denver killed himself in an experimental plane? Whatever.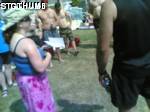 Then some beers, volleyball, and warnings from someone from the apartment complex. Following that, Bean fit 10 of us into his minivan for the ride back to the cars. I didn't think Surly was going to fit, but he did. Then we completed the complex shuttling process, and me and HIV went home to celebrate Father's Day with his kids.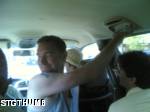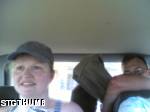 posted at: 23:48 | permalink |
Fri, 16 Jun 2006
This is the worst wing I've seen in quite some time.
It was on a 280ZX. And it was the +2 version of the ZX, so it was just that much worse. I got a rear shot while we were at the light. You can't see, but that wing is held on by six different kinds of screws (two of the holes are empty). I got the second shot as I blew past them in my Jeep. I didn't think I got the shot, but when I looked at the photos later, I did. Do you think the passenger noticed me taking the picture?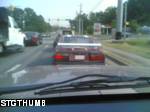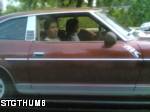 posted at: 22:38 | permalink |
Wed, 14 Jun 2006
The 26th annual Tour de Bar was last weekend.
I had expected to miss it, but at the last moment I had to fly home for a job interview. Go AirTran! As usual, we all met at the Brass Ring Pub. Well, Steve performed a subtle editing job on the name of the bar. Alex rode with us, and Alan showed up just before we left the first bar.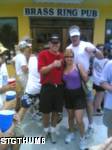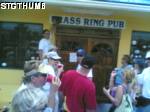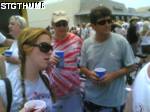 The second bar, as usual, was Betty Ann's. There were a lot of bikes parked in front of the Winn Dixie across the street. And Sheepdipper was there! And some other guy I didn't know.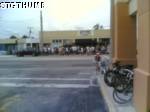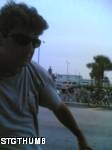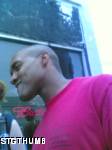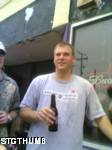 There was quite a crowd in front of Betty Ann's. AAA was there with the guy I didn't know. Soon enough it was time to make the move to the next bar. As we did, the police finally showed up and told us to move the bikes from in front of the store. "No problem, officer."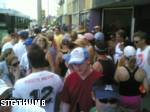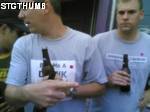 The third stop (as usual) was the Island Liquor Store and Lounge. I saw Brandon there for the first time. There was piggy back riding for the ladies. And then some other ladies got up on the bar and started rubbing against each other. Brandon looked happier after that.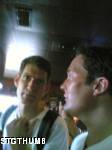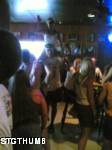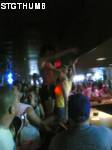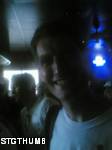 Fourth stop (did I lose count?) was the Sailfish Marina. Vince got a shot of the crowd departing. But then everyone had to get over the bridge. Almost everyone did, except for the guy I passed who was standing there with the cops and the rescue truck and the blood running down his leg. Apparently he stood up on the pedals to get make it up the bridge, the chain snapped, and something bad happened to his knee. At least Steve made it over. You can see me dropping him like a Seinfeld-alum television show.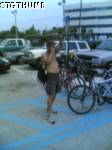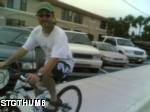 Eventually we made it to the marina lounge. Lots of bikes once again. The bikes weren't arranged as neatly as before, and the crowd noise had grown quite a bit. We were buying six packs from the ship's store, so as to avoid the higher priced drinks in the bar.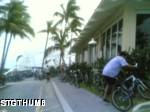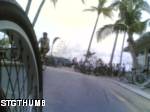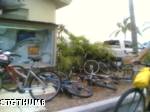 Steve met this nice girl, and wanted to pose with her in front of the Captain. Then the Captain's nephew or something came along, and snatched her away. After that is where we made our discreet getaway. We had to get to GH's birthday hash that evening. I guess the party went on into the night at the hotel. I heard something about Alex being run out of the hotel for "borrowing" crab legs. And I hope John met up with the big beefy guys he was looking for. All in all a good time. I can't wait for next year.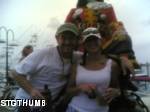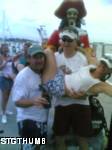 posted at: 22:02 | permalink |
Tue, 13 Jun 2006
Is it just me, or is this the ugliest color for a BMW ever?
Can this really be a factory color? Or did someone pay to have their Z4 resprayed a sort of pea soup green? Maybe it's supposed to be patriotic, and look like olive drab. Whatever the reason, it doesn't work for me.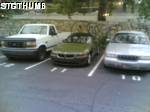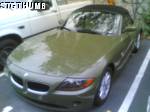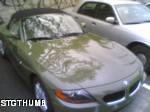 posted at: 06:08 | permalink |
Mon, 12 Jun 2006
GH had his birthday hash Saturday night.
We had to make an early exit from Tour de Bar, but it was worth it. We had already hit four bars, but we were ready for some more. There was a good turnout at the start. AI stopped by with Blackjack Brennan, before heading on to some sort of improvisational theater.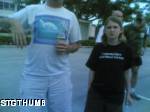 And Ben Stein Itsy was there. We were all trying to win his money.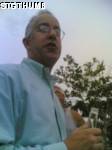 The Princess even made the trek up from down south. Nobody wanted to mess with her.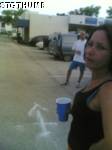 Once we got moving, the trail wound around Lake Worth and then over the bridge to Kreusler Park. We had time for a few beverages, and then went back over the bridge to the Hungry Lizard Bar, or whatever it's called.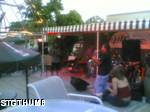 After the Lizard the trail went to the Dwarf, where we all saw Dirty Butt, and drank good beers for a change. Then the pack headed for South Shore, but as that would have been our seventh bar of the day (counting Tour de Bar) we called it a night and snuck on home with our beers between our legs.
posted at: 14:50 | permalink |
Sun, 11 Jun 2006
We've started going to the Sunday morning ultimate game.
Me and Linda, that is. There's a low-level (sorry, you know it's true) game at the amphitheater down by the water at 9:00 am Sunday. The only non-standard rule they have is no stall count, but nobody really holds onto the disc for too long. And they are a little shaky on the pick rule. But they have some decent throws and cuts. They play three games to 7, and I must admit I was dragging a bit by the last game. It was good fun, and I'm looking forward to being back in town so I can play again. It's a nice venue, with great grass, right by the water.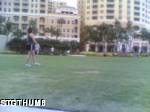 posted at: 13:29 | permalink |
Sat, 10 Jun 2006
Me and Bruce went to Dogwood Aikikai yesterday.
I hadn't done any aikido in over a year, but Bruce wanted to try it, so we did. I called them up, and they said to come on down to their beginner class on Friday night. They even had a loaner gi for Bruce. I was a little rusty stepping back onto the mat, but it's amazing how fast it comes back. There were so many people there that Brian (the instructor) ended up splitting the class, so I didn't get to see anything that Bruce was doing. But I had fun, and he had fun, so maybe he'll go back.

Afterward was the traditional drinking of beverages and eating of pizza, right around the corner at Johnny's Pizza. The group was a lot of fun, and we really had a good time with them.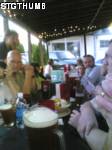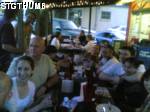 posted at: 11:08 | permalink |
Thu, 08 Jun 2006
Sydney likes to be close to the camera.
Here's a couple shots where she tried to climb inside the camera. She may make the dog's life a living hell, but at least she looks good.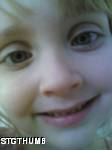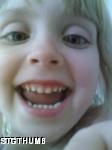 posted at: 21:23 | permalink |
Wed, 07 Jun 2006
I figured the Tuesday night 666 hash was a good place to be if the Rapture came last night.
The Rapture didn't come, but we still had fun. The hash met south of Little Five Points, in front of the Kroger. In keeping with my time in Atlanta, I have forgotten the hares' names. [Update: I looked on the website, and it was I Da Ho, and Portugese Water Dog]. I Da Ho was looking fine in her devil-may-care outfit, complete with red wig, horns, and come-play-with-me boots. There was quite a turnout of hashers; even EM and Head Nurse showed up.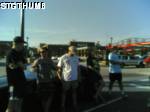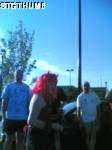 The chalk talk was nice, and included references to Sinful Vistas, Sin Near marks, YBFs (You've Been Fried in Hell), but the best mark was the special check mark for the evening: the pentacle. Plus the hares had tattoos on offer. I got a nice flame on the back of my hand, but I was really disappointed later when I found out it was only temporary.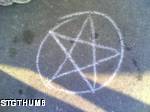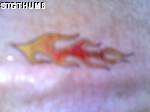 I do remember one name from the evening, when I met Pornocopia, who was missing a sock. I donated her a pair of slightly used Doggie Style socks. It took her about ten minutes to get dog poo on them once the run started.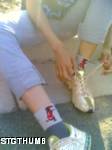 Once the run started we quickly hit the first Sin Stop. Actually it was a Hot Damn stop, as the hares were passing out shots of Hot Damn, which tastes like they poured grain alcohol into a jar full of Atomic Fireballs, and then poured it back out again. Mmm good.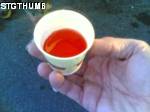 From there the trail wound around and through LIttle Five, before ending near an under-construction house. We had to wail a while for all the hounds to get in, but eventually Humpty Dumpty and the rest of them made it.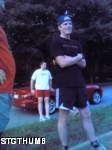 There was a little confusion on the way to the third beer check, but we got there okay. Even HIV made it. We sat on a low wall, eating the chips meant for the circle, and drinking the circle beer. We were interrupted once by a woman who claimed she had her boyfriend's head in her purse, but she moved on. We left before she came back.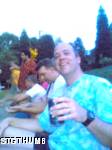 Then it was on to the end. It wasn't far, and it ended in a vacant lot next to an apartment building (foreshadowing). I forget who ran the circle, but it went well. He did it backwards because of 666, so we began with rule 6 violations, and proceded backwards to the hare. As we were finishing up, two cars of Atlanta's finest rolled up. They were in a good mood, so it worked out that we just had to pack up and go. They did stick around to make sure we left.

The hare was waxing rhapsodic about the blood wrestling at a nearby bar, but when we got there we found that it had a $10 cover charge. So we went to the basement of the Claremont instead. In all the time that I've spent in Atlanta I never knew that the Claremont had an exotic dancing club in the basement. I learned something at the hash. They had a nice chunky goth girl painted up in blue colors dancing there. I took a few photos, but didn't really want to use the flash, so it's hard to see what they are. I think the second one is of a Spanish language video poker machine.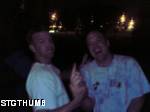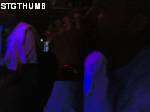 When we finally left, we had a long walk ahead of us. High Balls (he's the smart one) finally hailed a cab for us. Good idea. We arrived back at the parking lot to find that yr fthfl scribe had somehow lost the car key. Oh. So, after a call to HIV's life partner we sat around in the parking lot with Humpty Dumpty and that guy whose hash name I forget, eating spicy peanuts and swapping insults about who could be dumb enough to lose the car key. Then Julie showed up with the replacement, and all was well.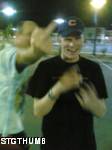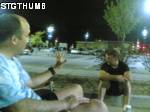 posted at: 20:19 | permalink |
Tue, 06 Jun 2006
I'm living in the basement.
In Bruce's house, for a month, while I'm in Atlanta. It's very nice, and Julie did a great job in setting it up. I just like how it sounds when I tell people I live in the basement.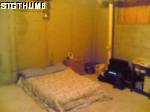 posted at: 06:09 | permalink |
Mon, 05 Jun 2006
The kids have 48 boxes of sparklers. Well, now it's 46 boxes.
We all read the safety precautions on the side of the box, and then disregarded them. Both Rachel and Joshua had sparklers in each hand, running around the yard. I was hoping for a sparkler sparring match, but no such luck. Everyone behaved with safety as the foremost consideration. But there are 46 boxes left...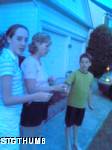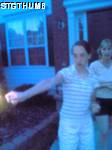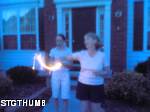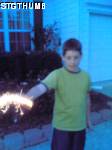 posted at: 22:39 | permalink |
Sun, 04 Jun 2006
Me and Bruce went back to ride at Blanket's Creek on Saturday.
Bruce had to crouch down so he could fit into the picture. Or maybe he was stretching; I'm not sure. In the second photo he's modeling his new full-finger gloves.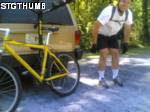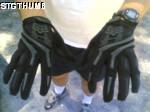 We did a warm-up lap on Mosquito Flats. I think this picture is pretty good, for reaching around behind me with the cell phone to get a picture of Bruce about to pass me. Then we got to the start of the intermediate trail (Dwelling Loop?). It was Saturday, so we were going clockwise. Or maybe it was counter-clockwise. We just went the same way as everybody else.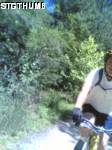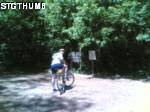 So we were hammering along, and as we went over a particularly difficult log pile I saw what looked like a long black hose moving on the side of trail. Slithering, actually. So we stopped and got a good look at what Bruce said was an Eastern King Snake. He claimed it was harmless, so I let him take the camera and get some more pictures of it. Amazingly, nobody was hurt. That was pretty much the high point of the ride. After that we finished the loop and got ready for that afternoon's Pine Lake hash.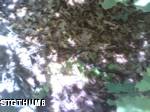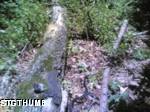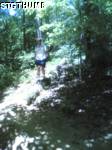 posted at: 13:44 | permalink |
I still can't believe we got to see Jimmy Buffett in Atlanta for his '06 tour.
Me and Bruce were at lunch on Thursday, and he picked up one of those free newspapers that lists all the cool stuff happening. And we saw that Buffett was playing the next night. It would have been nice to go, but we figured it had to be sold out.

Then that afternoon we were in Borders, shopping the computer books section, and Bruce's phone rang. It was his friend Ira, saying that he had an extra ticket for Buffett, and that he might be able to get both of us in. Cool.

Friday afternoon we headed down to the Lakewood HiFi Buys Amphitheater. We were coming out of the Kroger after stocking up on Corona and Red Bull, when the skies opened up and it began pouring rain. But we pressed on. On the way Linda text'ed me this picture of what she was doing that night.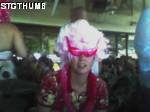 So we got there, and bent over as we paid the $25 for parking, and started walking in. The rain was letting up, but we were still getting wet. There were some cool looking buildings as we walked in. Bruce was looking sharp.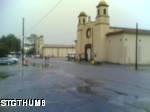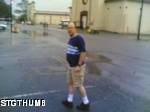 The wreckage of the day's festivities was strewn around the parking lot. There were tiki bars, daquiri machines, puking parrotheads, and more. We met Ira, who said that he didn't really want to stay, and gave us both his tickets! I love you man.

Once we got to the place where they take tickets it became even more clearer that people had been drinking all afternoon. It was like the crowd going into a Dead show. We walked past the crowd on the lawn (where I usually sit) and into the covered, seated section. The tickets were great, in the center, about halfway down. We had to run some drunks out of our seats, but they weren't too hard.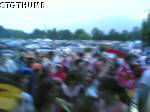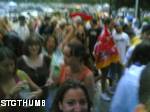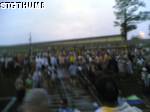 The camera phone doesn't really capture the scene well, but if you look close, you can see Jimmy. He did all my favorites. There were two empty seats next to us, and drunks would cruise up and try to stand there, but we ran them off. Finally, though, a couple girls slid in there, and we told them they were welcome to stay.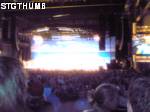 The girls introduced themselves as Lisa and Jenn (I think). We danced for the rest of the night, and took turns making beer runs. Just so you know, a 16 ounce Coors will cost you $12 there. And $14 for a margarita.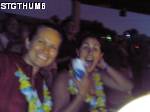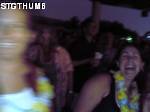 Here's another shot of the stage, with different lighting.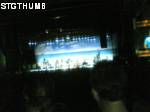 All too soon, the show was over. Jimmy did a couple encores, and then they turned the lights on. So we made our way back to the parking lot, which had turned into a red clay mud pit. Cars and trucks were slithering around in the mud, and spraying mud everywhere. Drunks were trying to push cars out of the mud, and falling into the mud, and being sprayed with mud. So we waited and watched. Finally the crowd thinned out enough, and we got in the Isuze Rodeo, and made our run up the mud hill. No problem. We got on the highway and headed home. What a great show. Possibly my best Buffett show ever. Thanks again, Ira.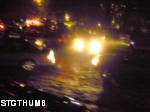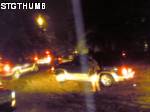 posted at: 11:03 | permalink |
Sat, 03 Jun 2006
Today we ran with the Pine Lake hash.
Mostly because it was closer than the Atlanta hash. It was still fun. We got there and paid our hash cash, and then stood around talking. And loading the bag truck, etc. Then we got the chalk talk, with lots of scary warnings about poison ivy, and we were off.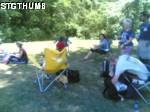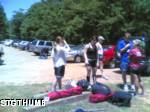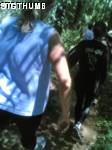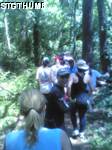 The trail wound through the woods around Life College, and through the campus itself. It was very picturesque. At one point the trail crossed a river (by bridge) and the hare had been thoughtful enough to mark the best point to see the scenic vista. So I took a picture.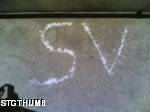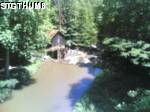 Then the trail kept going through the campus, and then along some long, straight highway. There were lots of used cars for sale. Did I mention it was straight? Eventually we ducked into another campus, some kind of Polytechnic school. By this time it was hot enough that I didn't get the full name. We hashed across that campus, and then onto another road (Hwy 42?). I want to thank the hare for keeping us out of all of that nasty shiggy we could see from the road, and allowing us to stay clean and dry up on the highway.

Eventually the trail ended at a pool in the Life College student housing. There was only one person in the pool when we got there. She was peacefully bobbing on a raft.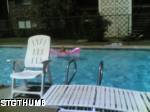 As soon as we arrived she jumped up and left. About eight minutes later the police arrived. Coincidence? Anyway, Snot Rag spent a long (long) time in conference with the officer. Eventually they seemed to reach an agreement that involved us removing all of the bottles from inside the fenced pool area. I can live with that. Then the officer left, never to return and check up on us. So we got back in the pool. I like the second photo; it's Little [something] Liquor Bitch, or L2B2 for short.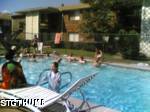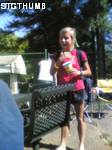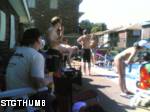 Then it was your basic circle of fear, followed by your basic hotdogs and hamburgers, followed by your basic drive home. That was fun. Oh, and here's the GPS track, proving conclusively that Snot Rag is a dirty liar, as I had a (mostly) on-trail distance of 4.75 miles, rather than the 3.5 that he claimed. But we all know never to trust the hare...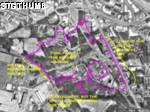 posted at: 21:07 | permalink |
Fri, 02 Jun 2006
We ran with the Slow Lazy Urban Thursday hash last night.
Or the SLUT hash for short. The start was in Decatur, not too far from our old house on Fantasy Lane. The hare was Mr. Mom, and I didn't get his co-hare's name. You can see him explaining the trail here, and the second photo is him with his co-hare. I didn't get a picture of Creepy Weird Dude (not his real hash name) who was hanging around, breathing through his mouth and generally weirding me out.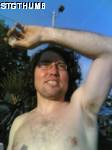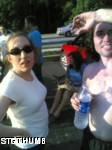 I also remebered this woman from the Wheelhopper hash on Sunday, but of course I didn't remember her name. But I do remember Humpty Dumpty, who has just moved down from the Chicago hash. We talked about all of the Chicago hashers I haven't seen for a while. And finally the GM, MC Hasher, and her sidekick Devo. Once nice thing about the SLUT hash is that they have good beer (and they better, for $7) and they bring it out before the run starts, which is a concept the other Atlanta hashs would do well to emulate.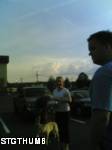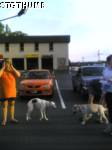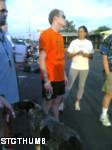 We finally got started, and the first leg of the trail turned out to be really good. Lots of shiggy, thorns, and water crossings. We spent a lot of time at the beer stop, waiting (and waiting) on the back of the pack, who had somehow gotten the idea that trail was on North Decatur Rd, and had set off that way. Eventually they filtered in, some on foot, and some by car.

The second leg of trail was equally good, with possibly even more water crossings, shiggy, and fireflies. But by the time we got to the second beer stop it was 9:00 pm, and the pack was beginning to grumble about food and going to work the next day, and so on. MC Hasher consulted with Mr. Mom via cell phone(!) and Mr. Mom returned to the beer stop to lay a kinder, gentler, straighter, more paved trail to the end. Which was good. There was some excellent chicken, rice, and salad at the end. As well as more beer. The circle was nice, and low key.

Dr. Doo-doo was there, as was Bruce (or should I say "HIV"). And Gentrification displayed the singing Billy Bass fish he had found on trail. The fish sang "Take me to the river, drop me in the water", so someone threw it in the pool. Then we finally organized a vehicle relay back to the start. Somehow Creepy Weird Dude was able to get back to the start and to his car before anyone else. I can't figure out how he did that.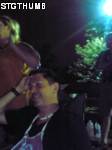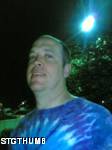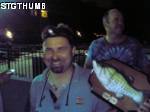 And here's the GPS track from the run. It was only about 3.5 miles, but it was a good one.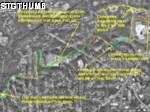 posted at: 06:03 | permalink |
Thu, 01 Jun 2006
We saw the Braves beat the Dodgers at Turner Field tonight.
It was their third match-up in three days, and the Braves finally won a game. Bruce and I left after work, and drove down to Turner Field. On the way we were talking about how much hot dogs would cost at the field, when we realized we were stopped in traffic next to the Varsity. Whatylyouhave?! I had the two chili dogs and onion rings combo, with a Coke. They didn't fry the Coke. It was pretty busy there.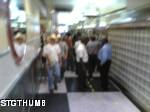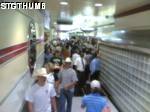 We weren't sure what to expect when we got the field, but we found a lot of traffic. We opted out of it by parking at the first hotel we saw, and walking in. I hadn't been to the field since the 1996 Olympics, where I think we saw Italy play Cuba in baseball. They had since demolished part of the stadium in order to turn it into a true baseball stadium, accepting the decreased seating.

We had what I thought were good seats. They were on the top level, but in row 8, right behind home plate, and with an excellent view of the giant TV screen. I had brought binocular with me, so I experimented with holding the camera phone up to the binoculars as a ghetto telephoto lens. It kind of worked; you can see the umpires talking before the game.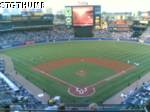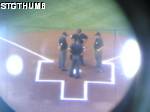 I got a couple photos of me and Bruce. The first one has both of us, and the second is Bruce with the field behind him.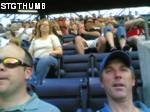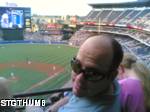 Just after the game started there was a promotion where a DHL delivery person came out and delivered a box of tickets to a lucky fan. The lucky fan was sitting close by us, so I got a picture of him/her holding the box as the DHL person was walking away. You can also see who Bruce got to sit next to all night.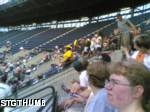 Here's the ghetto zoom with a shot of the batter, and one of the pitcher. The game went well for the Braves. The Joneses (Chipper and Andruw) got home runs early on, and the score was never really in doubt. About the fourth or fifth inning they began playing the tomahawk chop music from some old TV western. I know the Braves say they invented it, but all I can think of when I hear it is the FSU Seminoles. I had to put my fingers in my ears.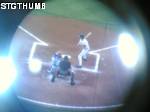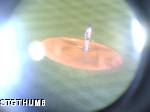 The grounds crew did their usual ballet. Late in the game the Braves pitcher did have some trouble, and there was a conference on the mound. The ghetto zoom reveals that the manager was actually saying, "Will you stop serving up those softballs, and throw the damn thing!". The final score was something like 9-4, so the game ended after the the first half of the ninth inning, and we headed for home.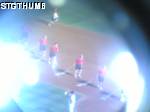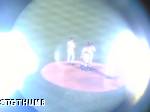 posted at: 06:43 | permalink |
Wed, 31 May 2006
The most dangerous man in the room
is Bruce, seen here in a rare moment of reflection.

Don't even think about what he could do with that screwdriver he is pointing.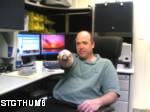 posted at: 13:09 | permalink |
Tue, 30 May 2006
I encountered the "don't boild water in a microwave" urban legend today.
Strictly speaking, it isn't an urban legend, but it is unlikely you will see it in real life. I was onsite at a client, and I saw this sign in the break room: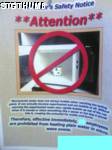 I had heard about this before, and I checked Snopes to see if it was real. What Snopes said is that is just barely possible, but unlikely. Basically, when you boil water in a clean cup in a microwave, the water can be superheated, but the cup will not get hot. Because of this, no bubbles form on the inside of the cup, and the superheated water is just waiting for any kind of nucleation sites that will trigger boiling. Nucleation can be supplied by a spoon or tea bag, as the sign says.

What the sign doesn't say, and Snopes does, is that this nucleation can be triggered during the microwaving by leaving a non-conductive (wooden or plastic) spoon in the cup. This will give the bubbles a place to form. Why not say that on the sign, rather than banning all microwave heating of water?

When I first saw this, it reminded me of the signs on gas pumps that said "don't use your cell phone because it can spark and start a fire". Actually, there are no recorded instances of this happening (see Snopes again), but I guess somebody figured you can never be too safe. Much like the prohibition on boiling water.
posted at: 19:44 | permalink |
Mon, 29 May 2006
I was back up at Bear Creek today
for Cartecay Bike Shop's Memorial Day ride. I got there right at 10:00 am, so I just had time to change my rear tube (flat from yesterday) and gear up. Mike from Cartecay explained that there would be A, B, and C rides. The A group left first, for their 35 mile(!) loop. I opted to go with Mike and the B group, which was going to back at the trailhead and become the C group. We did some fast downhill on the gravel road I had just driven up, all the way to the water, where we regrouped. So far it was all downhill.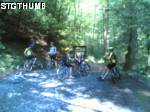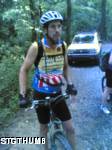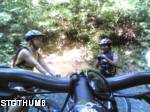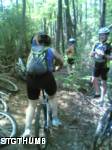 Then we got rolling again. This was all climbin, with Mike calling back, "Get in your granny gear". And he was right. We went up, up, up, getting back all of that elevation we had given away on the gravel road. Eventually we got to the top. I only had to walk once. Eventually the whole group got there, and we started again.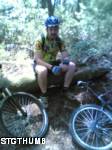 Since we were at the top, it was time to go downhill again. It was a fast trail, and I quickly got used to going over the water bars. Finally we got to the bottom, took a quick break, and were off for the final leg.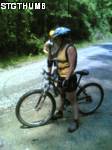 Back at the top we took a group photo. There was chicken on the grill, but Mike left with the C group anyway. I had had enough, so I hung around for a little while, and then headed back to Atlanta. That was a great ride, and I want to thank Mike and Cartecay bikes. I want to get back up there for next year's ride.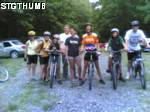 Wait, I almost forgot to put the GPS track up. I was wearing my Garmin Forerunner 301. There is nothing but trees in the aerial photos, so I really have no idea what's what. Plus there was pretty heavy tree cover, so the GPS lost signal in some places. I think I picked out the trailhead, but that's about it. TopoFusion did say that we had about 1500 feet of climbing, which doesn't seem like enough.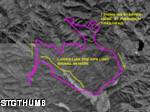 posted at: 18:16 | permalink |
Sun, 28 May 2006
I got to ride with the Wheelhopper hash in Atlanta today.
It was a Blankets Creek in Marietta. I was thinking about going to the Black Sheep run at Hedon, but that was 50 miles away, and this was 5 miles. Easy choice. Big surprise, the start time was screwed up. I was there at 12:00 for a 12:30 start (like lots of other hashers who read the website) but the hares were on a 1:00 / 1:30 schedule. At least I got to socialize for a while.

There was a nice chalk talk before we started. I forget by who, just like I forgot all the other names. Maybe I should take one of those Dale Carnegie courses to not forget people's names.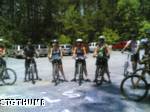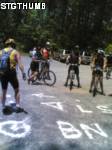 I had ridden the first part of the trail a couple times before, when riding at Blankets Creek. Then came the water crossing. Then a lot of climbing and descending. I thought I was the only person who had to walk my bike up some of the climbs, but then this other hasher (who's name I really should remember) came up behind me.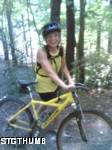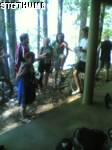 The end was at a pavilion by the lake. And they drink good beer at the Wheelhopper! Of course, they make up for that by doing down-downs while seated on a stationary bike. Here's a photo of another guy who's name I forget doing a down-down. No, wait, I remember that guy's name, because he got named that day. Henceforth and forever more, blah blah blah, he will be known as "Bacon Bitch". I like it.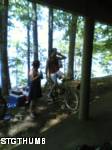 Then it was my turn for a down-down. Here are some of the happy smiling faces I saw looking back at me. The guy in the second photo with the cup was running down-downs. Guess what, I forgot his name.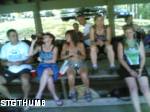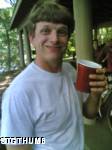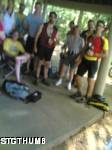 Here's the GPS track of the ride. I didn't turn the GPS on until about half a mile in, but you can still see where we were. The summary said we did 1500 feet of climbing. Thanks for the ride, Wheelhoppers.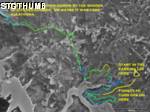 posted at: 21:44 | permalink |