Sun, 04 Jun 2006
I still can't believe we got to see Jimmy Buffett in Atlanta for his '06 tour.
Me and Bruce were at lunch on Thursday, and he picked up one of those free newspapers that lists all the cool stuff happening. And we saw that Buffett was playing the next night. It would have been nice to go, but we figured it had to be sold out.

Then that afternoon we were in Borders, shopping the computer books section, and Bruce's phone rang. It was his friend Ira, saying that he had an extra ticket for Buffett, and that he might be able to get both of us in. Cool.

Friday afternoon we headed down to the Lakewood HiFi Buys Amphitheater. We were coming out of the Kroger after stocking up on Corona and Red Bull, when the skies opened up and it began pouring rain. But we pressed on. On the way Linda text'ed me this picture of what she was doing that night.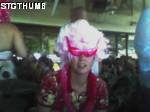 So we got there, and bent over as we paid the $25 for parking, and started walking in. The rain was letting up, but we were still getting wet. There were some cool looking buildings as we walked in. Bruce was looking sharp.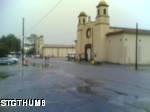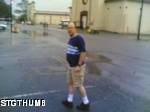 The wreckage of the day's festivities was strewn around the parking lot. There were tiki bars, daquiri machines, puking parrotheads, and more. We met Ira, who said that he didn't really want to stay, and gave us both his tickets! I love you man.

Once we got to the place where they take tickets it became even more clearer that people had been drinking all afternoon. It was like the crowd going into a Dead show. We walked past the crowd on the lawn (where I usually sit) and into the covered, seated section. The tickets were great, in the center, about halfway down. We had to run some drunks out of our seats, but they weren't too hard.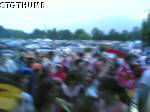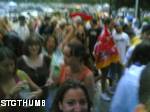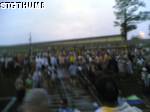 The camera phone doesn't really capture the scene well, but if you look close, you can see Jimmy. He did all my favorites. There were two empty seats next to us, and drunks would cruise up and try to stand there, but we ran them off. Finally, though, a couple girls slid in there, and we told them they were welcome to stay.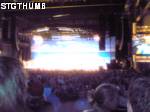 The girls introduced themselves as Lisa and Jenn (I think). We danced for the rest of the night, and took turns making beer runs. Just so you know, a 16 ounce Coors will cost you $12 there. And $14 for a margarita.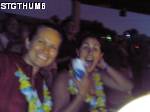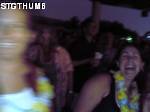 Here's another shot of the stage, with different lighting.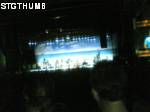 All too soon, the show was over. Jimmy did a couple encores, and then they turned the lights on. So we made our way back to the parking lot, which had turned into a red clay mud pit. Cars and trucks were slithering around in the mud, and spraying mud everywhere. Drunks were trying to push cars out of the mud, and falling into the mud, and being sprayed with mud. So we waited and watched. Finally the crowd thinned out enough, and we got in the Isuze Rodeo, and made our run up the mud hill. No problem. We got on the highway and headed home. What a great show. Possibly my best Buffett show ever. Thanks again, Ira.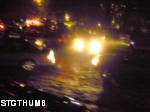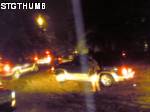 posted at: 11:03 | permalink |