Sun, 28 May 2006
I got to ride with the Wheelhopper hash in Atlanta today.
It was a Blankets Creek in Marietta. I was thinking about going to the Black Sheep run at Hedon, but that was 50 miles away, and this was 5 miles. Easy choice. Big surprise, the start time was screwed up. I was there at 12:00 for a 12:30 start (like lots of other hashers who read the website) but the hares were on a 1:00 / 1:30 schedule. At least I got to socialize for a while.

There was a nice chalk talk before we started. I forget by who, just like I forgot all the other names. Maybe I should take one of those Dale Carnegie courses to not forget people's names.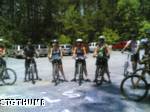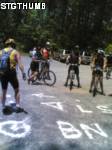 I had ridden the first part of the trail a couple times before, when riding at Blankets Creek. Then came the water crossing. Then a lot of climbing and descending. I thought I was the only person who had to walk my bike up some of the climbs, but then this other hasher (who's name I really should remember) came up behind me.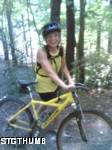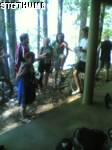 The end was at a pavilion by the lake. And they drink good beer at the Wheelhopper! Of course, they make up for that by doing down-downs while seated on a stationary bike. Here's a photo of another guy who's name I forget doing a down-down. No, wait, I remember that guy's name, because he got named that day. Henceforth and forever more, blah blah blah, he will be known as "Bacon Bitch". I like it.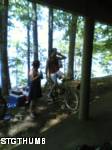 Then it was my turn for a down-down. Here are some of the happy smiling faces I saw looking back at me. The guy in the second photo with the cup was running down-downs. Guess what, I forgot his name.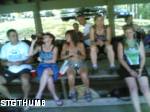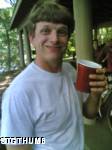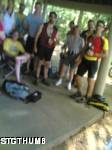 Here's the GPS track of the ride. I didn't turn the GPS on until about half a mile in, but you can still see where we were. The summary said we did 1500 feet of climbing. Thanks for the ride, Wheelhoppers.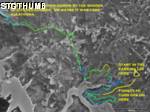 posted at: 21:44 | permalink |