Thu, 27 Apr 2006
I have been remiss in posting hash trashes.
Here is one from April 19. This was NGB's pre-7-mile bridge hash, so it had a strong 7 theme to it. There was no 7&7, though. We met about 0.5 miles from my house, so I rode over there by bike. There was a strong turnout from Ft. Lauderdale, perhaps due to the resounding success of the hash awards? Anyway there were lots of people and cheap beer. NGB took the usual 15 minute head start, afterwhich we set out to catch her. I was doing well, and got most of the checks right. And even the ones I missed, I was able to catch up on. I think DBK passed me three or four times. The beer check turned out to be at Coasters, a neighborhood bar on Dixie. They seemed happy to see us, although we did run them out of beer mugs. I don't mind drinking out of a styrofoam cup.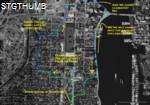 The second half was mostly a straight shot back to the start. The circle went well, with Yeast presiding. Lots of quality down-downs. And them back to Coasters to finish off the evening.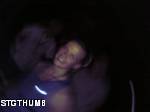 posted at: 07:28 | permalink |
Sun, 23 Apr 2006
The 25th running of the 7 Mile Bridge Run was as good as ever.
Of course, this was only the second year I've actually run it. I was legally registered, unlike a lot of my friends (cough) bandit (cough). This was the last year for camping at the Knight's Key campground, because some greedhead developer bought it, and the low-rent camping will be turned into high-end condos ("from the low 800's" or some such).

But we enjoyed the camping anyway, and on Saturday morning we all walked over to the start. I (and a lot of other people) had to use the port-o-lets. I made it to the start with a minute or two to spare. All of the number-less bandits were starting at the back of the pack, but I moved up a little. There was a bang, and we were off!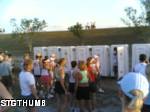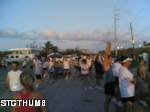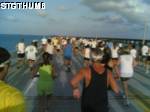 I ran a slow pace this year, about a 10 minute mile. The run isn't too hard when you go that slow. The pack gradually thinned out, and before I knew it, the finish line was coming up.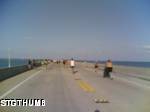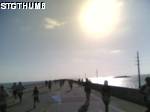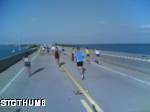 I met some friends and we watched more friends come in. There were only two people we know who suffered the indignity of being picked up by the bus. They were still on the course 90 minutes after the start, so they got a free bus ride. There were some non-runners in our group who had brought their cars over the bridge before the start of the race, so we piled into their cars and went back to the start. The beer (various flavors of Michelob Ultra) was flowing at the start, and the racers were partying. I saw lots more people from home that I knew, and we even ran into Karen.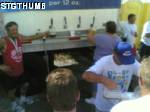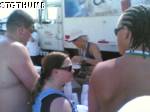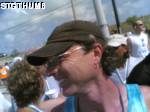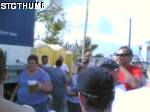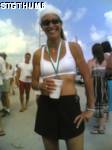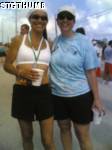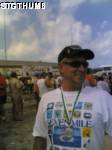 We finally walked back to the campground to get out of the sun. Most people were napping or swimming. We socialized for a while, and finally broke camp and headed down to Key West. Where the story continues...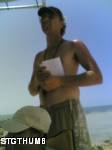 posted at: 13:18 | permalink |
Mon, 17 Apr 2006
We went back to the range on Saturday afternoon.
We've been going out to shoot by the canals, but have been hearing from other people that the sherrifs are starting to run people off of there. So we went to the local range. Last year the range started requiring people to use only range ammo (which you have to buy from them). So I can't use a box of Winchester 9mm that I buy at Walmart for $6. Instead I have to pay them $12 for a box of reloads. To justify this they have a couple blown-up revolvers on display. Of course, the revolvers were blown up by someone shooting hot handloads, but that's beside the point.

This was my first time firing Rob's new Ruger .22 pistol. It was very smooth. After shooting the 9 mm, the .22 felt as though it had almost no recoil. And it was pretty accurate. Mostly, though, I shot my S&W Sigma 9 mm. I put around 200 rounds through it.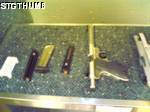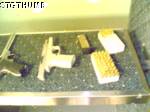 Rob had these cool new stick-on targets. They have some kind of coating on them that pops off when you hit them, so it's really obvious when you have a hit. Here's a before-and-after of my target after I blazed away at it at 15 yards. That's the other thing I don't like about indoor ranges: they're so short. And you can't shoot at washing machines there, either.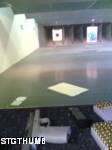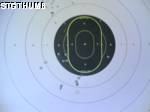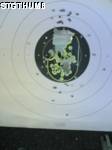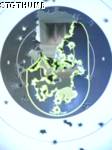 posted at: 07:24 | permalink |
Sun, 16 Apr 2006
The 2006 South Florida Hash Award ceremony was held on Saturday night.
Me and C. stopped to pick up PH, CC and SF on the way down to Miami. We had all opted to skip the run portion of the day's events, and just do the food and the awards.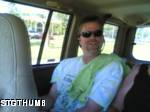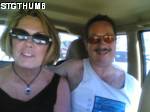 We finally got to south Miami, and headed east on the Rickenbacker Causeway to the old Marine Stadium. There was nobody in sight, but we did find a parking lot of hash vehicles, and a cooler full of beer that someone had thoughtfully left behind. We hung around for a while, more lost hashers appeared, and eventually SotB appeared to lead all of us to Jimbos. Jimbos was a colorful place near the water. I don't know the story behind it, but it has the look of one of those places that was grandfathered in, like the Biscayne Bay stilt houses. A location like that should really be a 30 story condominium instead of a simple place where you can go to get a beer and sit outside.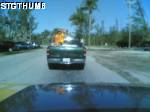 There were lots of hashers we hadn't seen for a while, but the most shocking of all was... Blowhoe. He was in town for a while. He moved from Hollywood, Fl a couple years ago, to Hollywood, CA. He is now appearing as a rapping roller skater. Check him out at www.rollerrapper.com. We took lots of photos for his site.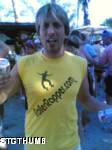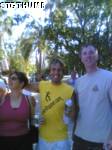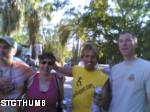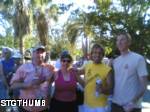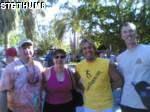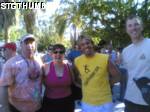 Then it was time for the group shot. Someone, possibly Jimbo himself, climbed up on a table to get the shot. The crowd was encouraging for a while, but began to mock him when he took way too long to get it done.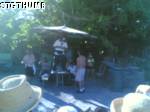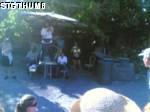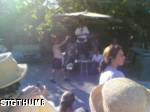 One the way out I took a moment to appreciate this monument to the VW bug.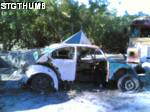 Back at the parking lot, the circle commenced. We matched up Blowhoe's girl-of-the-day with another young hasher. They did a co-down-down, but despite plenty of encouragement, would not fight or kiss.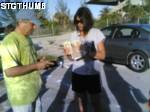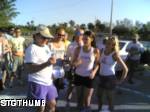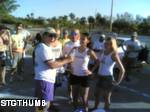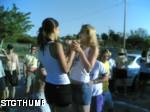 There were plenty of other down-downs as well, although S&Minator was not able to stay awake for them. Horshack did have a nice drinking vessel, and Itsy pants were just a masculine as ever. Which is to say, not at all.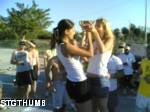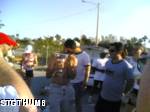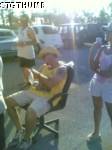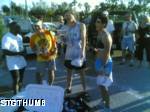 Then the party moved inside for food, beer, and the awards ceremony. I stopped taking pictures around then. There were twenty awards given out, for all kinds of things, like Rookie of the Year (DBK), and Best Ranger (CA). It was a grand time. There were some skits, too, including one with me in the cast. Fortunately you don't have to see me in a bikini top, but check out P-rick and Yeast. Then they ran us out of there for the Latin Disco Party.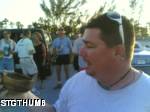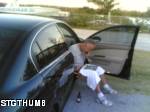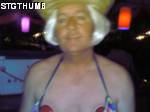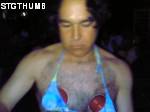 posted at: 13:18 | permalink |
The annual Race For The Arts 5K run was yesterday morning.
Linda is heavily involved as the webmaster, and has other duties as well. I hadn't pre-registered, so I rode my bike down to get there by 6:45 am so I could pay my $25. Linda was gettting her school's artwork up. The amphitheater was still mostly empty.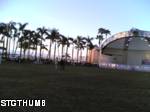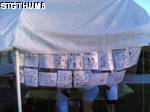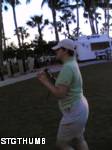 I helped Brent set up a few tables. Dean was open for business at the soda stand. And TJ was getting ready to race. Pretty soon we crowded up to the start line.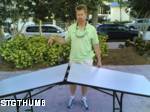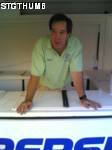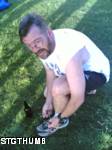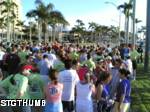 The tension mounted, and then we were off. I didn't get any photos of the race itself. I ran an easy race, next to Mark. I was a little slower than I was in the Race for the Cure, but I felt a whole lot better.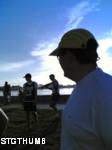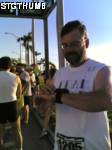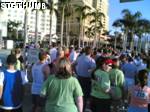 Afterward we listened to the music for a while. Kit recovered on the curb. And I saw GD for the first time since the InterBash. The IHOP was there with pancakes, and I won a four-volume set of Harry Potter books in the raffle. All in all, it was a good morning.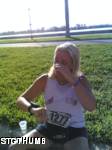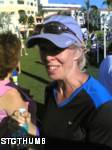 posted at: 11:24 | permalink |
Sat, 15 Apr 2006
We tallied up all the votes for the Misc Awards.
After the regular four miler at Run and Roll, we met at the Dwarf. Mark logged me into the hash web site as an admin, and I tallied the votes. Then Sheldon and Gary showed up. What are the odds?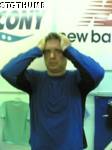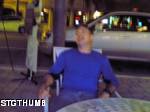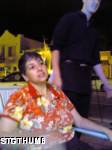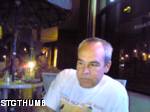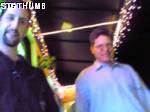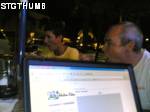 posted at: 14:07 | permalink |
Rob got himself a new Ruger Mk III pistol.
It's a .22 pistol so he can do cheap target shooting. If you're not familiar with these (I wasn't) Ruger has been making them in various versions since 1949. This one has a fluted bull barrel, which should make it more accurate. It also has an amazing amount of safety features. It comes with a little hex-type key that will lock the safety in the "safe" position. It has a magazine disconnect so it won't fire without a magazine inserted. And it has a chamber loaded indicator so you can tell if there's a round in the chamber. The internal workings must be pretty complex. At one point Rob pulled out the "jackknife" style breakdown mechanism in the grip, but then he couldn't get it back together. There was something rattling around in there, and he had to fiddle with it for a while. Eventually he got it working, and we went off to try it out.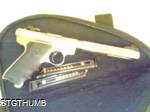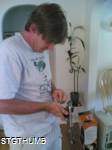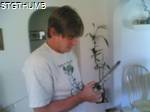 posted at: 13:38 | permalink |
Thu, 13 Apr 2006
I thought they were remaking the Italian Job. Again.
I was on my way home, when I saw a car carrier full of Mini Coopers. And not these fancy new BMW-style Minis, but the original, tiny, underpowered ones. I have no idea what was going on. There was no name on the car carrier. Maybe it was someone moving to Florida and bringing their Mini collection with them? I know I didn't see any advertising for a demolition derby for dwarves. I guess the conspiracy nuts will have fun with this.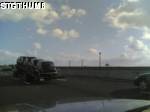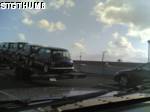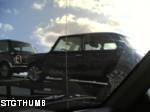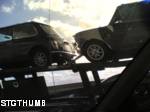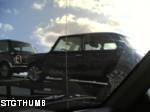 posted at: 07:38 | permalink |
Mon, 10 Apr 2006
Here's a Barracuda I saw out at the fairgrounds on Saturday.
It looked totally stock, with simple silver paint. It was parked next to a new Corvette, and as we walked away, the Corvette owner walked up to his car. He spent a long time checking out the Barracuda. Me and Rob were trying to decide which car we'd rather be driving. I finally decided on the 'Cuda, but Rob went for the 'Vette.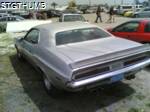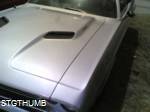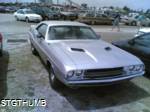 posted at: 07:07 | permalink |
Sun, 09 Apr 2006
The Reggae Hash was better than ever this year!
At least that's what I heard, since I didn't go last year. We all met up in the Head's back yard (where did we meet last year?). Lots of hashers from down south, including the one-and-only OP.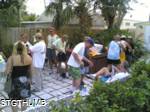 The first half was a familiar one, since it was in Lake Worth. We went east, south, west, north, and then east over the bridge. The beer check was under the east end of the bridge. It was hot, but there was plenty of coconut with lime in it to cool everybody down. On the way back we timed things just right for a quick like-down in the street.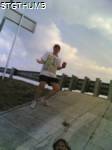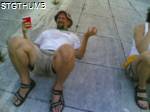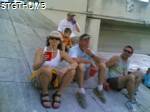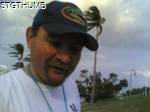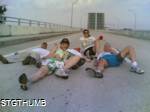 The second half went pretty much straight back to the Head's house. Which was find with the pack. Then the knife came out. I had given OP and GH a ride to the St. Paddy's Day hash, and afterward I found this nasty-looking Gerber in my car. I asked both OP and GH about it, but they denied knowing anything about it. GH grabbed the knife for himself, though, and began threatening OP with it. I'm sure it was all in good fun.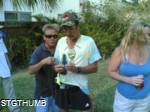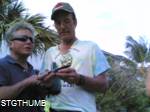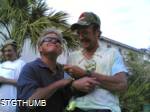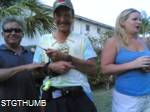 After we got the knife put away, the down-downs began. Yeast had set up a whole bunch of Red Stripe in cups to facilitate the process. The circle virgin (Nicole?) did a nice job on her down-down, although we only got a joke and not a body part. Lots more down-downs followed.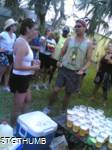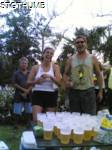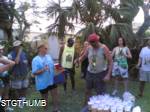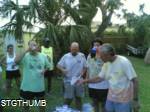 Plenty of standing around in the sun. GH kept his new knife close at hand.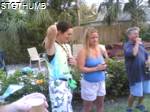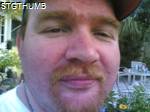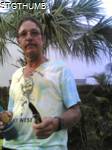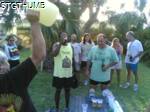 There was even a new song for the occasion. Yeast had printed up copies of it and handed them around, and we all joined in.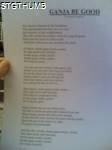 Eventually we adjourned to the front of the house to watch GH ride his bike. Amazingly, no one was hurt. The hashers that were motivated wandered on down to the park where Reggae Fest was playing, to party on into the night, and some others of us just headed on home.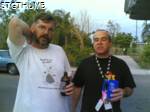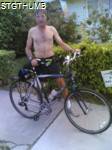 posted at: 13:38 | permalink |
Sat, 08 Apr 2006
Here's a couple portraits I took with my new camera phone.
This one has a flash built in, so the close-up photos look much better. I had lunch with my dad, and I got a shot of him while I was showing him the phone. He just got a Samsung phone from Verizon, and he loves it. He's still working on the voice mail, though. The other picture is of my cow-orker Bart. We had lunch a couple days later, and I got some shots of him. This is the best one. The flash defintely helps.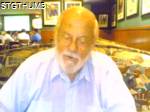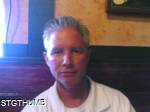 posted at: 21:45 | permalink |
Here's my desk at work.
That's right, this is where the magic happens. There's some race numbers up on the wall, and a cup that Linda made me, and of course my monitor and keyboard. Some pictures of Linda, and one of me with Lisa and Holly. This is one of the first photos I took with my new Nokia 6682 phone (1.3 megapixel).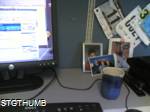 posted at: 21:41 | permalink |
Fri, 07 Apr 2006
Linda's butterfly hatched.
She found him on her milkweed plants when he was a caterpillar, and she stuck him in the butterfly cage with some nice milkweed leaves to munch on. Then he turned himself into a chrysalis, and then we waited for three weeks. We were leaving the house on Thursday, when I noticed there was a butterfly in the butterflay cage. So Linda reached in and grabbed him (he didn't want to come out), held him for a moment, and then he flew off into the grapefruit tree. He rested for a couple minutes, and then he was on his way.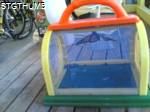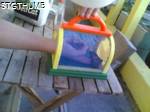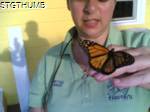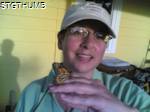 posted at: 22:07 | permalink |
Thu, 06 Apr 2006
It was New Beer's Eve last night,
better known as the 67th anniversary of the repeal of Prohibition. Yeast gave us all a history lesson, culminating in the New Beer's Eve FCAT. We met behind the Publix, with a good-sized turnout of 30+ people. In honor of New Beer's Eve, Yeast had provided Natty Lite. I got some photos as the sun was setting.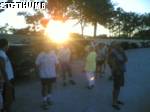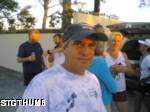 Yeast was away promptly at 7:10, and we followed him after a decent interval. The first half was mucho shiggy, winding through the Pinehurst mountain bike trails, and then crossing the street into the equestrian park. The pack had some idea of where they were going, so the pace was quick, with not a lot of time solving the checks. After just 3.27 miles we arrived at the beer check, on a secluded lake in the equestrian park. As we stood around refreshing ourselves we saw a curious site in the distance. It was the walkers, but they were ... running? Apparently there is a quite a push in the walker community to get properly trained for the upcoming 7 Mile Bridge run.

Pretty soon we left the beer check, for a more-or-less straight run back to the cars, where more Natty Lite awaited us. We had a decent circle, with Plop keeping the crowd under control. There were several returning NFHNs, and even a hash hottie. Things are going well in the new hasher department. Then Duffy's, then home.

For once my prediction was pretty close. The prediction is on the left, and the actual trail is on the right. I got the mountain bike trail and the equestrian trail, but Yeast opted to skip Okeeheelee after that.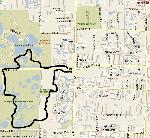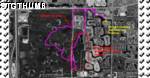 posted at: 07:31 | permalink |
I made up some prototype hash decals
and I took them out to the run last night. I thought they looked pretty good, but AC had to go and point out the mistake. Can you spot it? Hint: the phone number is wrong. D'oh! I used some laser printable labels to make them. Actually, Linda did most of the work. They seem to be mostly waterproof, but I don't know how long they will last in the sun. The initial plan is to take them down to the Keys in a few weeks, and slap them up in bars.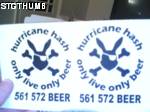 posted at: 07:18 | permalink |
Wed, 05 Apr 2006
I wasn't sure what that was in the back yard when I got home today.
I could see some orange and blue, but couldn't make out any details. As I got closer it began to look like a cat sleeping on something. Then I saw it was Martha lounging on top of Linda.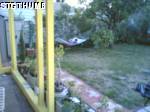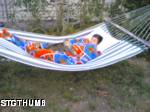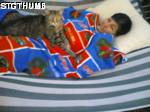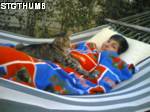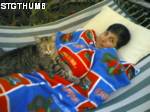 posted at: 18:08 | permalink |
Mon, 03 Apr 2006
I saw a really cool Audi this weekend.
I think it's an Audi TT, but I really don't know a lot about Audis. The wheels and the blacked-out trim give it a nice look.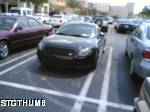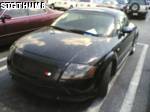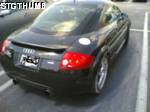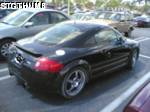 posted at: 07:04 | permalink |
Sun, 02 Apr 2006
The Island surf shop is sponsoring the hash.
At least it looks that way. I was downtown on Sunday afternoon to go by Fat Cat bike shop, and I saw this on Island's sign. I don't know what it really is, but it sure looks like they're saying "On On".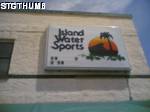 posted at: 20:36 | permalink |
Sat, 01 Apr 2006
The Gators are going to the NCAA finals!
Again. We saw the game at the Old House on Saturday night. Just like the last time (in 2000) I didn't pay too much attention to the tournament, because I figured they would get knocked out. But when they were still in it after the quarters I figured I had to go see the semifinal game. They were in control pretty much all the way. They were in such good shape at the finish that the final three minutes went by quickly. I guess George Mason didn't think there was any point to fouling them to get the ball back. Finals are Monday night. Go Gators!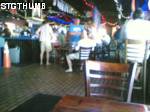 posted at: 21:31 | permalink |
Thu, 30 Mar 2006
P-rick set another trail on Wednesday.
This was (I think) his fourth one, but it was probably his worst. He made the classic mistake of going way too long between marks. Add to that him using GH as a co-hare, and you have the recipe for disaster. I still would have been okay, except I ended up with a virgin hasher and an NFHN hasher. The virgin was pretty slow, and was walking by the end. After we had done six miles we finally got to where the beer check had been, but the pack had already left. Fortunately, at just that moment, Circumspector called to see where the hash was. So I asked her to come and pick us up and take us to the end. And she did. So the circle was okay, but there was a lot of P-rick abuse.
My GPS died after about a mile, because I forgot to charge it up, but I filled in the trail by hand. The pink is the GPS track, and the yellow is what I drew in. The start was at Run and Roll. AI was there, and he was ready to run.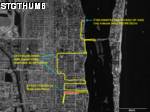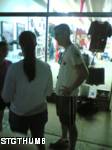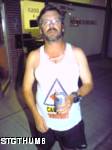 These are the two hashers I was on trail with. I think they'll keep coming back. Although all of the pictures I had of the girl were of her sitting down resting. And finally a shot of the pack before the circle, as they dreamed up accusations against P-rick.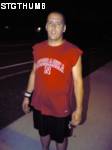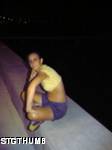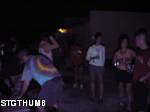 posted at: 07:41 | permalink |