Sun, 25 Dec 2005
This guy really has the Christmas spirit.
He's one of my neighbors, working at the beer truck on Clematis last Thursday.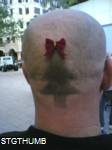 The neighborhood association got the Clematis beer date again, so we all went down to work the beer truck. A couple of the hashers came to help out -- TJ and Christy. Linda worked hard, and then she took a short nap. I got an interesting shot zoomed all the way in in the dark.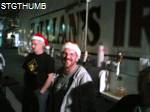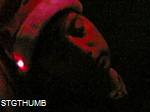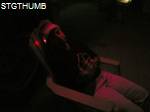 posted at: 23:18 | permalink |
We picked up Bruce and Julie and the kids at the airport on Christmas Eve.
We got to the Ft. Lauderdale airport a little early, so we sat in the Chili's there and watched the planes land. Finally we saw an AirTran plane come in. It pulled up and parked at the gate right outside our window. I called Bruce on the cell phone, and he had the idea of having Joshua raise and lower his window shade. Right away we could see where they were sitting. It was cool.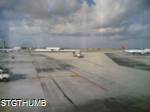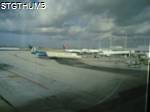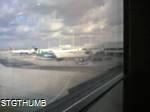 Then we went to Russo's for lunch. I hadn't been there for a while, but it's still as good as it ever was. Linda and Rachel were comparing mp3 players.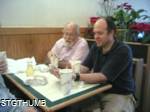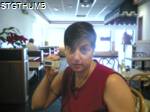 posted at: 23:07 | permalink |
Wed, 21 Dec 2005
NFHN Sean got his name last night.
It was a pretty good trail, with two beer stops. The turnout was a little light, possibly due to the cold (55 degrees F). I didn't remember to wear the GPS, so I don't have a map of the trail. All I have is my fearless prediction from the day before. If someone sends me an XML export from their GPS I'll generate a map and put it up.



Here's a picture of Stinky at the first beer stop. I was using a rudimentary lighting technique called "shine the flashlight in her face". It sort of worked. Gee, I hope I get a flash for my camera phone for Christmas.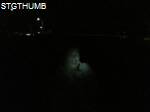 And here's Sean, post-trail, but pre-name. There's a shot of Stinky in the light, plus two shots of the returning pack. They walked back from the second beer stop.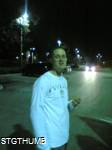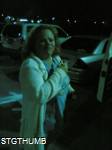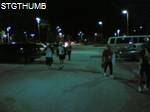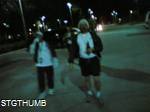 Here's a dim shot of Sean sitting on the ice. It looked pretty cold while he was doing it. Oh, and henceforth and forevermore he will be known as ... "Dirty Buttkiss".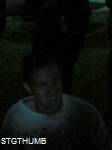 posted at: 07:08 | permalink |
Mon, 19 Dec 2005
I saw a cool looking scooter yesterday.
It was called a Ruckus. It had a real off-road look to it. I looked it up on the internet, and found it's made by Honda. It's got a 49 cc engine, so you don't need a motorcycle license, at least in Florida. Or insurance. I guess I'll wait until I get the DUI to get one, though.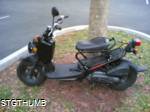 posted at: 07:28 | permalink |
Sun, 18 Dec 2005
I got Rob an early Christmas present.
Bart had a Schwinn chopper he wanted to get rid of, and he made me an offer I couldn't refuse. So when Rob stopped by to pick me up for some Christmas "shopping", I gave him the bike. We admired it for a bit, and then everyone tried it out. Linda went first.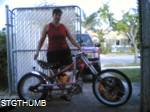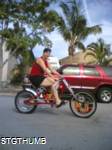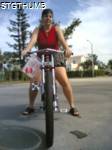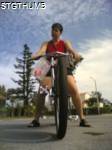 Then we convinced Rob to ride it. The bike is really small, and there's some toe overlap with the front wheel. Rob had to slide as far back as he could go, but he was able to make a couple passes.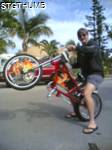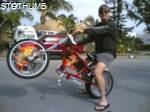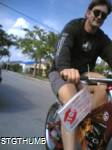 Then I was up. The bike was fun to ride, but boy is it small. So it looks like it's cut, grind, and weld time. Rob left it in the carport, since he claimed he doesn't have room for it. I looked around on the internet, and found a couple people who have modified it. We've got a basic plan to cut the triangle in three places, and extend each leg. It should be simple to extend the fork tubes as well. Next update in a couple months.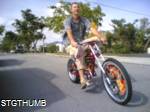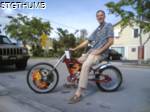 posted at: 20:43 | permalink |
Fri, 16 Dec 2005
Linda and I volunteered as beer pullers for Moonfest.
Moonfest is usually held on Halloween weekend, on Clematis. This year, though, we had that pesky hurricane. Was it Katrina, or Wilma? I forget. Anyway, Moonfest was rescheduled to last weekend. Ed found out the Thursday before that our neighborhood association (Pineapple Park) could earn some money by running one of the beer trucks. So me and Linda joined Ed and some of his friends, most of whom we knew from working the beer truck at Clematis by Night on Thursdays. The street was brightly decorated. I got some photos, but there really wasn't enough light for my camera. I sure hope someone gets me a camera phone flash for Christmas...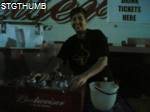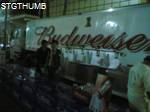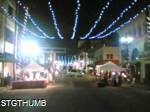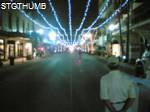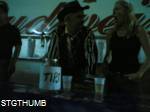 posted at: 07:28 | permalink |
Thu, 15 Dec 2005
The BUFF Brothers annual hayride was last night.
Lots of holiday cheer and looking at Christmas lights. My trail prediction was a little off this week, since I guessed we would be doing an ever-expanding spiral. Instead we all piled onto Dribble's trailer and F-350 King Ranch truck, and rode around for a while. You can see the GPS track. The Buff brothers really did a nice job of decorating the trailer.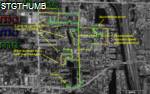 There was no trail planned, although CumAgain did his best to organize an impromptu one. Eatapus explained the trail markings, and laid the only mark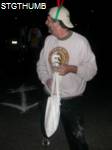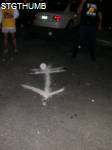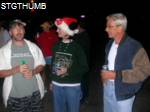 Pretty soon we were loaded onto the trailer and ready to ride. We were packed in tight on the hay bales. And the BUFF brothers gave us a nice sendoff.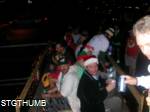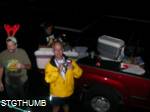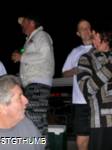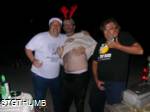 This is the best of the all the lights we saw. That's the same house where the trailer stopped, and HayRideMe tried to do something awful to the deer.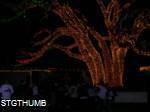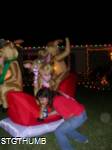 Then it was time for the circle, lit by the glowing cooler. G8rH8r did the opening ceromonies, and then we changed to a sort of rotating format. There were gifts for everyone. 6of9 got one, and so did Dribble.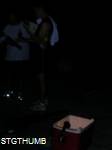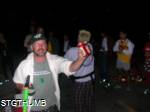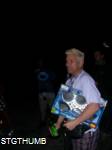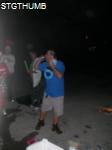 Finally it was fireworks time. Boot had set up his arsenal off to one side of the circle. He lit all the fuses, and stuff started exploding. As you would expect, safety was paramount. I think that's Drib in the second picture, trying to put his Mr. Wonderful doll action figure in with the fireworks. I really wish the third picture had come out better; I have no idea what those two people are trying to do. A good time was had by all, and no fingers or eyes were lost.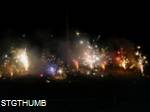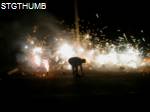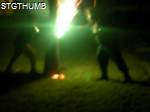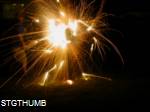 posted at: 07:19 | permalink |
Tue, 13 Dec 2005
The Christmas tree is up.
Linda spearheaded the effort. She drove us to Target, she haggled with the Christmas tree guy, she soaked the tree in water for a week to keep it green. I got the tree stand out of the attic, though. We put it up on Sunday. I strung popcorn for a while on Monday night, but I think I string some more. I'm getting the Christmas spirit now.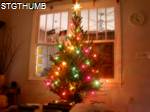 posted at: 07:18 | permalink |
Tue, 06 Dec 2005
I found a couple more pictures of Bruce and family from Atlanta.
I like the one of the whole family (minus Josh). Then there's two of Josh. That's so unfortunate about his facial disfiguration.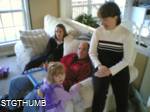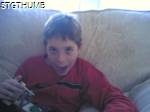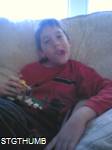 posted at: 07:09 | permalink |
Mon, 05 Dec 2005
I did the Palm Beach Half Marathon today.
I had a lot of fun at the Atlanta Half over Thanksgiving, and there was a marathon starting a couple miles from my house, so what else could I do? This one started at 6:30 am, half an hour earlier than Atlanta. I got a shot looking forward just after we crossed the starting line. I was a little slower this time -- I finished in 2:19, instead of the 2:09 of Atlanta. About mile ten I met Chuck Harab from Maryland. He was going slower than usual, so we decided to finish together. But about half a mile from the finish I slowed down, and Chuck went on by himself. The weird part is that when I looked at the results Chuck finished in 2:20. Did he stop and did I pass him without seeing him? I hope you find this with a Google, Chuck. The after-race spot was the Meyer Amphitheater.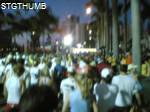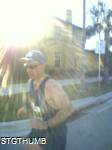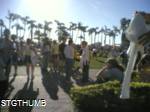 After I recovered I walked over to mile 21, where the hash was doing a beer stop. AI had gone to trouble of making a sign, setting up a card table, and supplying the beer. We must have looked official, since none of the police motorcycles or cars buzzing past stopped to ask what we were doing. Of course, some of the hashers (like SN) were holding back some of the beer for themselves.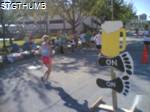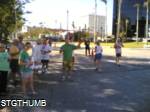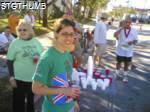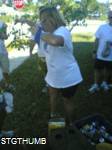 We got to cheer for all of the hashers who were running the full marathon. Brent came through, and so did Leslie. She was running with a guy in a tutu who was carrying a wand. No explanation given. All of the hashers had a beer, and so did a lot of the other runners. I estimate 10%. Once things wrapped up there AI set a two mile trail that ended at my house. Much singing and beer drinking ensued.

I did pick up a flyer for the Miami Marathon, on January 29. Naaaaah...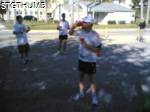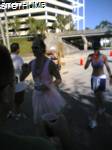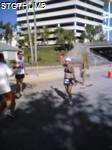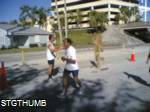 posted at: 07:18 | permalink |
Sun, 04 Dec 2005
Two packages of 4" hooks: $2.98
Four foot length of 1/8" metal strap: $3.72
Two pieces of pipe from my scrap bin: Free
Building my own fence stretching tool: Priceless
Well, maybe it's closer to $13.25, because buying the tool at Home Depot would be $19.95. We made the tool and put the fence back up on Saturday. Now we have the illusion of privacy once again.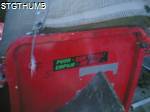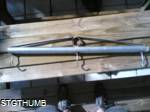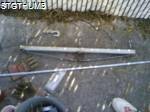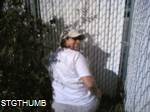 posted at: 18:40 | permalink |
Fri, 02 Dec 2005
Me and Rob and John Smith rode at JD last Sunday.
The trails were a lot sandier than the last time we were there, but they were still in reasonably good shape. John had a slow leak in his front tube, which none of us could find, so he had to drop out after the first half of the ride. Me and Rob did the whole circuit. There were a lot people out there, mostly with department store bikes and no helmets. I've never seen that many new people before. We had fun.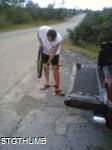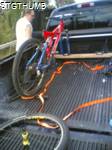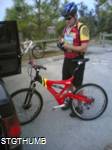 posted at: 07:23 | permalink |
Thu, 01 Dec 2005
The seesters did this week's hash in Boynton.
It was pretty good, despite the lack of a beer check. Maybe they forgot? Turnout was heavy, perhaps due to CA's insistence (on the message board) that there was nothing good on TV that night. My scouting report/prediction turned out to be wildly inaccurate. Maybe next week. The circle was good, complete with Red Stripe, and AI ran things with his magic glowing wand. Oh, and HayRideMe was there, too.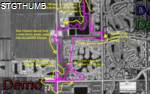 posted at: 07:37 | permalink |
I've been seeing some interesting cars on the road.
The bizarre one appeared to be a convertible Honda CRX. I was stopped in traffic, idly looking at the funny-looking car ahead me, when I realized it had to be a convertible first-generation CRX. By the time I got the camera out, the light had changed and I didn't get a very good shot. But trust me, that's what it was.



Then the next day I saw something a little more reasonable. It was a Jeep Commando, parked next to my Jeep Cherokee. No, I didn't say Commander, I said Commando. It's a little two-door convertible made back in the late 60's. I've seen pictures, but never seen one in real life. It's a really basic car, with a column shifter. No AC. I don't remember if I saw a heater or 4x4. I'm guessing no 4x4. It looks like fun for driving around town, but not for a road trip.




posted at: 07:07 | permalink |
Wed, 30 Nov 2005
It's hard to take a bad picture of a cute kid.
So I'm not taking any credit for these pictures. That's my niece, Sidney. Or is it Sydney? I guess I should find out before I buy her anything that's personalized. Anyway, she was clinging to my back like the old man of the sea, so I started taking pictures of us. Maybe it was more like she was a monkey with a grip of iron. Whatever. Anyway, as much as I wanted to put her in my luggage and take her home, I didn't.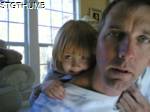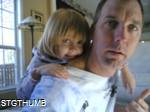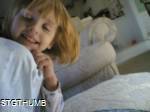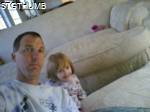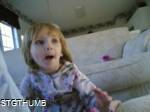 posted at: 07:29 | permalink |
Tue, 29 Nov 2005
Here are some plane pictures.
No, not plain pictures. They were taken from a plane, get it? We had to wait in the plane for a while before takeoff, so I got a shot of the plane next to us, as well as the fuel truck.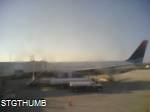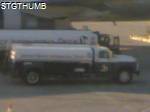 I thought it was going to be an empty flight, but people kept coming on to the plane. Finally we got airborne. I got a couple shots out the window. Then I fell asleep and woke up in Atlanta.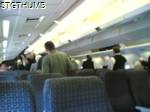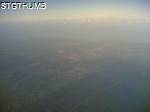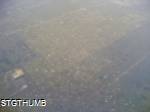 posted at: 07:19 | permalink |
Mon, 28 Nov 2005
I did a run before Thanksgiving dinner last week.
It was the Atlanta half-marathon. It was the fourth year in a row that I've run it with Holly and Lisa. We did Benihana as our carb- and protein-loading the night before. I had the seafood Diablo. I'm not so sure our chef Pedro really spent three years in Japan learning his craft.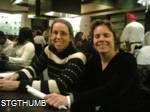 Up early the next morning for the 7:00 am start. Lisa and Holly cooked breakfast, and I drove us up in the Neon. I cracked my PBR tallboy as we left the car to walk to the starting area. The weather was surprisingly warm, which was a nice change from the low 40s that we had expected.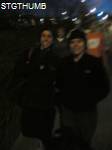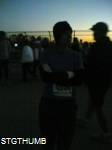 The starting gun fired at 7:00 am sharp, and we were off. Of course, it took us four or five minutes to cross the starting line, but the timing chips we had laced to our shoes would give us an accurate net time. The crowd was huge. Fortunately I had brought along my camera phone to get some photos of us as we ran the race. See that guy in the fourth photo with the Harvard shirt? I saw him throughout the race.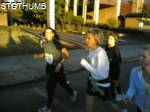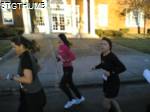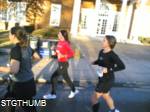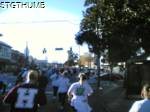 The sun came up and it got warmer. I dropped my gloves and my long-sleeve shirt. Lisa stashed my hat for me by her workplace. About mile nine we were coasting downhill, and I was feeling good. Holly and Lisa wanted to stop at a water station, but I kept on going, because I was feeling pretty good. That was the last time I saw them during the race.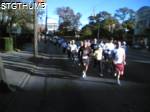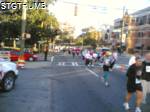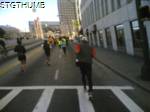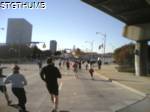 The last few miles went by fast. Before I knew it I was in the final mile. I didn't try to sprint, although I did speed up a bit. I saw the photographers coming up, and gave them a big smile. I heard the announcer call my name as I approached the finish line (thank you timing chip) and I was done! I took a quick photo looking back, and then I went to the guy I had been waiting to see all day long: the guy who would cut the timing chip off my shoe. That's when I knew I was done.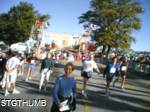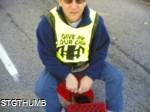 As I got out of the finishing area, I heard Holly and Lisa calling me. They had passed me one of the hills, and I hadn't seen them! I think the sun was in my eyes. We picked up our bags and got warm, dry clothes on. Then Holly got what she had been waiting for all day: the Snickers bar from the giveaway table. I got a Coke, and we started walking toward the MARTA. We passed the Atlanta Hash House Harriers group, and I got the last Heineken from their cooler. Hi MC hasher!

As we walked toward the MARTA station we kept an eye open for the first marathon finisher. We didn't see him by the time we got there, so we had to wait a short while, but pretty soon we heard the sirens coming, and we saw him come around the corner. That guy was moving fast. Then we rode the train back up the car, and headed home.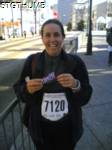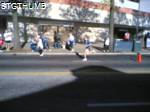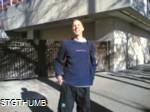 The post-race cooldown included a number of beers. And no PBR, either. We hung for a while, and then it was off to T-day dinner for me. Oh, I uploaded the GPS track, but it's really not very interesting. The scale is so large that you can't really see any detail. It's nice to scroll up and down in TopoFusion and rerun the race, but the screen shot just doesn't capture the course very well.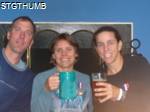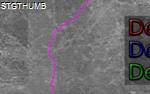 posted at: 23:48 | permalink |
Sun, 27 Nov 2005
Linda's birthday hash-pub-crawl went really well.
About 30 people showed up, including a bunch of virgins. Some of the virgins were her cow-orkers, and some were really virgins. Circumspector had provided numbered bandannas for everyone, which she used as raffle tickets. Every so often she would stop the festivities and have another drawing for a prize. I myself won a small bottle of tequila. We went to three different drinking establishments, including one that I had never seen before, called Margarita's. I think it is sort of like Brigadoon, and only comes out on Circumspector's birthday. The circle went well, with me and my 12" glow stick leading the ceremonies. The most attractive of the female virgins put on a brief gymnastic act for us. Then we all retired to the Dirty Dwarf for some scotch eggs.

Oh, and nobody has yet sent in any donations for a flash for my camera phone, so some of the pictures are a little dark.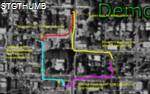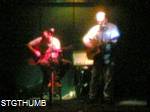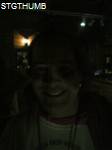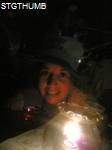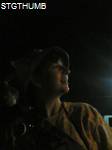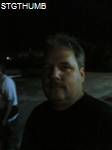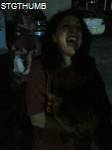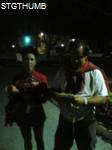 posted at: 12:59 | permalink |
Sat, 26 Nov 2005
My house was invaded by computer techs recently.
It was like something out of "Gorillas in the Mist". They were in a circle, each with his or her Apple iBook, poking at their screens and grunting. Actually, it was Linda and her fellow Technology Ambassadors. They are a group of teachers who go to periodic workshops to learn about Apple technology, such as video production, and bring that expertise back to their schools to share with other teachers. Plus Apple supplies them with equipment. They look like they are having a good time.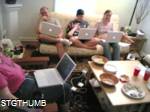 posted at: 17:28 | permalink |
Fri, 25 Nov 2005
The fence is back up.
Well, partly. We have all the poles set, but we still haven't stretched the fencing. I haven't been able to borrow a fence grabber for the come-along, and so far I've been to cheap to buy one for one-time use. There's a shot of a hole with a pole in it, a shot of me mixing cement, and a shot of a different hole with both pole and cement in it. Linda did a lot of work also, but she was taking the pictures.





posted at: 12:36 | permalink |