Sun, 18 Dec 2005
I got Rob an early Christmas present.
Bart had a Schwinn chopper he wanted to get rid of, and he made me an offer I couldn't refuse. So when Rob stopped by to pick me up for some Christmas "shopping", I gave him the bike. We admired it for a bit, and then everyone tried it out. Linda went first.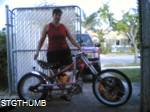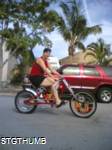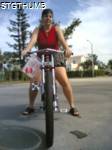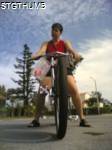 Then we convinced Rob to ride it. The bike is really small, and there's some toe overlap with the front wheel. Rob had to slide as far back as he could go, but he was able to make a couple passes.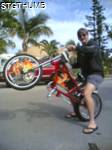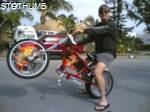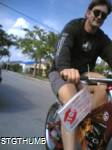 Then I was up. The bike was fun to ride, but boy is it small. So it looks like it's cut, grind, and weld time. Rob left it in the carport, since he claimed he doesn't have room for it. I looked around on the internet, and found a couple people who have modified it. We've got a basic plan to cut the triangle in three places, and extend each leg. It should be simple to extend the fork tubes as well. Next update in a couple months.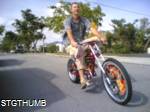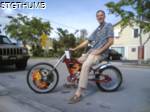 posted at: 20:43 | permalink |