Mon, 12 Jun 2006
GH had his birthday hash Saturday night.
We had to make an early exit from Tour de Bar, but it was worth it. We had already hit four bars, but we were ready for some more. There was a good turnout at the start. AI stopped by with Blackjack Brennan, before heading on to some sort of improvisational theater.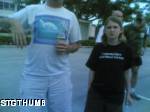 And Ben Stein Itsy was there. We were all trying to win his money.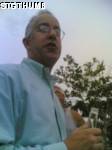 The Princess even made the trek up from down south. Nobody wanted to mess with her.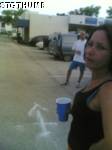 Once we got moving, the trail wound around Lake Worth and then over the bridge to Kreusler Park. We had time for a few beverages, and then went back over the bridge to the Hungry Lizard Bar, or whatever it's called.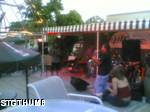 After the Lizard the trail went to the Dwarf, where we all saw Dirty Butt, and drank good beers for a change. Then the pack headed for South Shore, but as that would have been our seventh bar of the day (counting Tour de Bar) we called it a night and snuck on home with our beers between our legs.
posted at: 14:50 | permalink |