Thu, 19 Jan 2006
What great turnout for PC's run last night.
There were thirty people there, maybe more. Lots of people we hadn't seen in a while. The hash forum had been active with various trail predictions. I think that Yeast and DBK were closest, with me third, and CA not even close. Below is my prediction, and the trail I actually ran. Note that I don't say the actual trail, as I probably spent more than 50% of the distance ranging around looking for trail.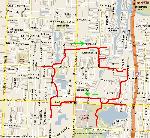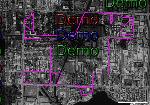 I remembered to bring my camera phone flash, so I was annoying everyone by taking pictures. Here's Stinky in a pictures that's illuminated a little too well, as opposed to the last picture I took of here, where I lit her up with a flashlight. Spin came out for the first time in long time, and Grandmaster CA was jamming to his own private tunes.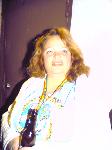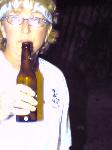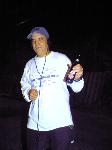 Princess showed up in her new Hummer H2. It's big. Really, really big. It's a land behemoth. It's big. Also pictured: your hare, PC. The run started in front of PC's warehouse. Two doors down a band was playing, so after the run a couple of us heard a Sublime tune, and walked on down to watch.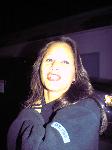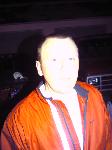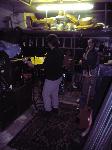 Mr. Bush and HayRideMe had brought yet another virgin from their (hopefully) endless supply. Christine wasn't completely sure about the hash, but she did a good down-down. No joke, song, or body part, though.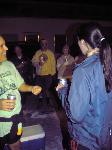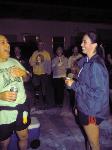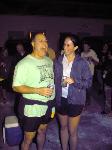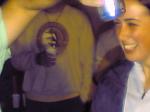 Patch and Retracted did a down-down as we chanted "one if by land, two if by sea". Ha Ha. And then the band came out for down-downs. Three of them put their beers down fast, but the fourth one just couldn't do it. I think he was the drummer.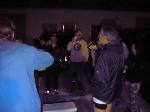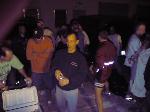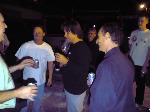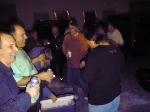 Dribble arrived late, in a van nearly the size of Princess' Hummer. Nobody gave him a hard time about wearing a shirt that looked like it was from the Cuban national bowling team.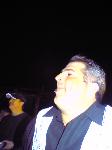 posted at: 07:24 | permalink |