Wed, 04 Jan 2006
I got the fork for my street bike today.
That's the mountain bike I've been riding around town. It's an XL Jamis hardtail. I put some slick tires on it a couple months ago, and it really made a difference. I did put the mountain bike tires back on last week while Bruce was visiting, so he could ride it at JD, and then I put the slicks back on so he could ride it around Palm Beach.

Recently I decided I wanted to swap out the lightweight air-sprung Manitou fork for a rigid fork. I looked for a while on eBay, and finally ended up with a new Kona suspension-corrected fork. I bid on a few titanium forks, but they always went for $225 or more. I got the Kona for $62. I was standing outside when the UPS driver pulled up, so he just handed it to me and drove off. I hope to get it on sometime in the next week.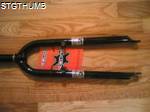 posted at: 22:33 | permalink |