Thu, 26 Jan 2006
HayRideMe and DBK did a pretty good trail last night.
There was a pretty good turnout, perhaps 20 people. Even Bootlicker showed up. We were all glad to hear that he is drinking again. I rode my bike because it was so close to my house. Circumspector was kind enough to bring my hash shoes and a dry shirt in her car. There had been a lot of speculation about how the trail would go, and we were all anticipating a good one. My prediction had the trail going north, and crossing I-95 at Belvedere, while Yeast and CA both had it going south and crossing at Summit. HayRideMe and DBK took their head start, GH counted down 12 minutes, and the pack surged as one.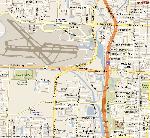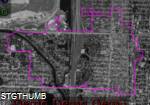 We hit a couple BTs and CBs, but the pack mostly stayed together. All three predictions were quickly shot down, mine more so than the others. The first beer stop was at the Clubhouse Pub, who has seen us once or twice before. AC/DC got there on his hog, but the other walkers arrived on foot shortly after us. Apparently it was okay for us to stand outside on the sidewalk with our beers. I think I was up to 4.7 miles or so at that point.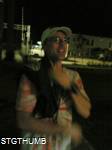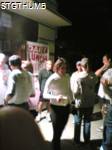 The second half was more of the same. Still well executed, although nobody fell for the wrong-way-pointing arrows that one of the hares (probably DBK) kept throwing. The pack kept a fast pace, and pretty soon we found ourselves at the second beer check, which was a stash of beer hidden by a canal. I had forgotten my flash, so I got this shot of P-rick with my new technique of shining my flashlight in his face. I think I need a bigger flashlight. Once the beer was gone we got moving again, and flew through the last third of the trail.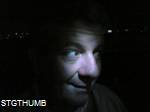 I had the high mileage, with 7.47 miles. I did a lot of bad trails and CBs. Yeast ran the circle, and did a good job. He never really lost control. And there was enough beer. We finished up quick, because the overpass back over I-95 was going to close at 10 pm for construction, and that's how you get to the bar. I skipped the bar and rode my bike home in the rapidly dropping temperatures (oooh, 50 degrees, so cold). Before I left, I got this picture of AD and PS, by illuminating them with the bike light. That's them lit up with 10 watts of 6 volt power.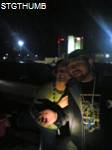 posted at: 07:14 | permalink |