Thu, 19 Jan 2006
We went to Linda's art show tonight.
It was down in Delray. It's the annual art teacher's exhibit. This year she had four pieces on display. The exhibit is in an old schoolhouse that is now a museum. The oval piece is a ceramic piece that she glazed to look like a landscape. And the piece in the third photo is called "Ticking Clock".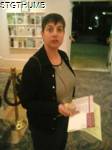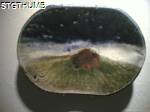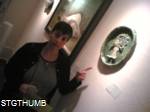 The crab is a watercolor by another art teacher. I like it. The pieces in the second picture didn't come out too well, but one is a digital photo, and the other is a collection of boxes. The third photo got washed out by the camera phone flash, but it's Linda pointing the those two pieces. And the fourth shot is Linda explaining that the brown sign is not an ironic statement, but is actually the sign for the ladies' room.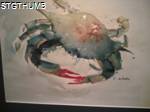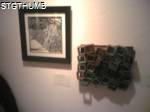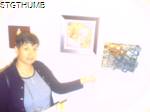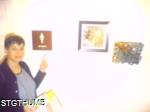 When we got home I rode my bike down to Clematis, and saw a bunch of hashers there. Here's GH and SN. They seem to be at the optimal distance for the flash.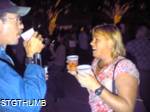 posted at: 22:35 | permalink |