Tue, 14 Mar 2006
I found another batch of Bike Week photos from Daytona in my phone.
This happens sometimes when I take a camera along. I'll use the camera for most of the photos, but now and then I'll take a photo with the phone, and then forget about the phone photos until the next time I download from the phone.

Anyway, here they are.

The first few photos are from the Friday night pub crawl. A camera phone with no flash isn't the best tool for a dark bar, but you can make out the basics. The first photo is Itsy and this week's girlfriend, and the second is a closeup of AC. I really like the third photo here. It gets my award for "Unable to Understand the Lyrics". If you're going to write graffiti, at least get it right.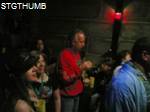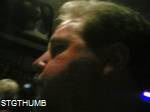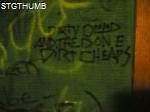 Here's a wider shot of the second bar, a picture of the boxing machine that thankfully went unused all night long, and a group shot that includes Kiddy from Tampa.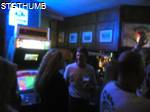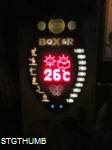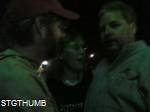 Here we see a random Harley parked in front of the hotel. I liked it because it was so different from the shiny chrome and paint on most of the bikes. It was *dirty*! Plus a couple shots of Main Street, including a cameo of my thumb.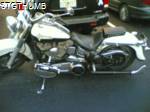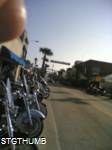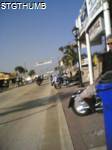 As always, we stayed in the Mayan Inn. This year we had an oceanfront room Howard joined us on Saturday, and stood out on the balcony with me in the wind, looking at my car. It was cool and blustery, so the pool was unoccupied.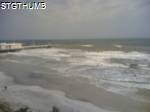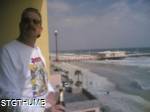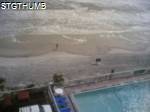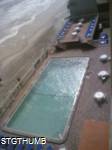 On Sunday we headed over to the Arlen Ness area on the mainland. AC and, um TR (not her real name) tried on these $60 handmade sunglasses. I got a shot of them in the glasses, and they put them back on the rack. Everyone was happy.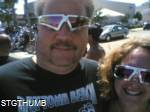 posted at: 21:32 | permalink |