Sun, 19 Mar 2006
We got to serve beer at Clematis again last Thursday.
The neighborhood association was lucky enough to get the St. Patrick's Day date, so we figured we would have a good night. I mentioned it to the hash, and sure enough, a couple hashers showed up to help out. Linda got to wear her St. Paddy's Day hat again. If you look close in the third picture you can see that our neighbor has his hair cut in the shape of a shamrock. And there's Nicole in the fourth photo.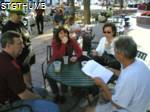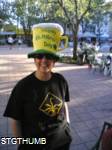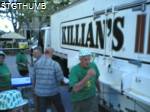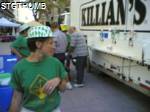 Here's some more shots of our neighbors. That guy standing way away from the camera in the third picture is Ed. And that's Debbie in the fourth one. You already know Nicole in the second photo.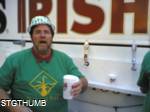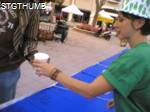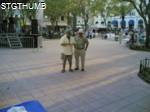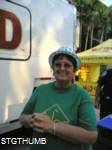 Toward the end of the night Darren showed up. I asked him to wear my little plastic hat on his enormous head to I could get an amusing photo. I think it worked. We stayed busy all night long, but we never got swamped, and we made a decent amount of money for the neighborhood association. We're going to spend it on the application to close the Mercer cut-through street in the back of the neighborhood. That may cut down on all the through traffic we get.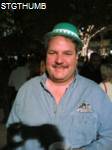 posted at: 08:43 | permalink |