Tue, 21 Mar 2006
We finally made it to the Rennaisance Festival on the last day.
It took a while, but we finally found time to make it down to Quiet Waters park in Boca for the festival. Linda's brother Al is their official photographer, so we met him there, and walked around with him. He knew everybody. And he kept taking pictures. In fact, when we got there he was up on top of the entrance gate, taking pictures of a king or something. You can just see his head in the top photo.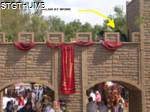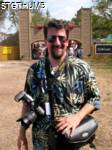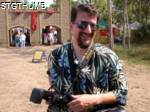 We had been there a few times before, so we saw our favorite shows. I didn't take a lot of pictures, but I did snap a couple of the Dueling Gypsies, or whatever they called themselves. They were good with the swords and with the crowd.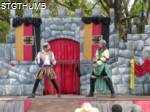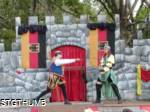 The thing I kept noticing was that most of the trees were gone. That happened back during Hurricane Wilma last year. It was even worse in the south end of the park, where the mountain bike trail used to be. It had been badly battered by the hurricane, and then the park recently came in with bulldozers and leveled almost every tree that was left. Their explanation was that they were removing the non-native species, which has become a fetish here in Florida. I hope that someday we can get the mountain bike trail back, but I don't think we can make it like it was. Linda had to wear a hat because it was sunny.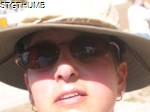 We kept eating and drinking. I had a bunch of pina coladas, which apparently had a lot of alcohol in them. I don't even remember taking these photos. It looks like a character study of a couple pirates. I slept all the way back in the car, and when we got home I went out in the back yard and slept all afternoon in the hammock. I even missed Kevin's birthday party. Mmmm. Pina coladas.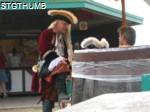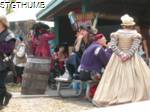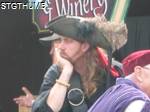 posted at: 07:12 | permalink |