Thu, 29 Jun 2006
My last hash of this Atlanta trip was with the Monday night hash.
Me and Circumspector used to run with them when we lived here, so we knew lots of them when we went back on Monday. We had a little trouble spotting the pack in the parking lot of the Publix on Ponce, but finally found them. I didn't get a lot of photos, but here's a picture of a dog's butt.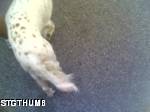 I did get a couple shots of the assembled pack. Sanitary Not eventually showed up and took charge of the group. Soon we were off, heading west out of the Publix parking lot.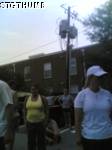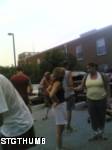 The trail was interesting. The hares (sorry, forgot your names) were concerned about the threatening rain washing away their marks, so they used chalk instead of flour. They made these odd asterisk-like marks to simulate the flour plops. And they didn't want the pack to get lost, so they only put in one Count Back, and no checks. So what we had here, was pretty much a 3.5 mile run. It was near the Carter Center, so we had lots of nice rolling hills to run through.

Eventually we pulled up in front of Manuel's Tavern. I had never been there before. They tucked us away in a back room, where we could drink beer and make noise to our heart's content. So we did. I think there were 20 pitchers of beer for the assembled hashers. The circle was good, the food was good, and then me and Circumspector did the long (three blocks) walk back to the car. See you all next time!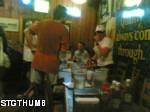 posted at: 08:16 | permalink |