Mon, 26 Jun 2006
Circumspector and I sampled the SOB hash yesterday.
I had wanted to do the Black Sheep, but after extended negotiations with Circumspector we decided to do SOB. We went straight to the hash from a Cub Scout camping trip, and there wasn't much difference. When we got there it was still a nice day. The crowd was gathering, and MC was directing things. And I got a rare of photo of an ambulatory Dr. Crotchrot (insert foreshadowing music here).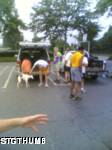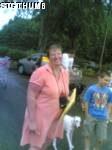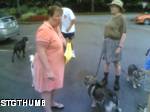 We were happy to see SleazePuppy, and Circumspector demonstrated to her just how big things really are at our house.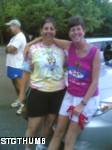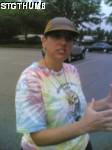 Then the pack was away. It had started raining again, so it was tough finding trail, but we managed. MC had done a good job of putting out enough flour to withstand the rain. The trail ran through some fields, and then through lots of kudzu. Lots and lots of kudzu. It was really wet. Finally the inevitable happened, and trail led down a steep clay bank. I managed it with the grace of a ballet dancer, but other hashers weren't so lucky. Circumspector squashed her phone, and Dr. Crotchrot twisted her ankle.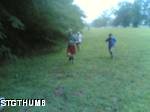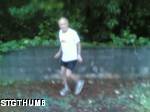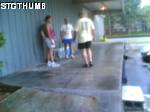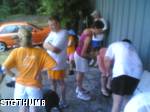 There was a strange ritual display of slaughtered stuffed animals on top of one of the coolers. We were still able to get the beers out of the cooler, though. We watched the dancing dogs while the rain got harder and harder. Dr. Crotchrot determined that her ankle might be broken, so she and her support crew headed off to the hospital. The rest of us stared at the rain, sighed, and headed out for the rest of trail.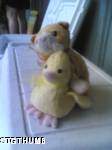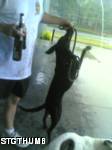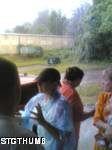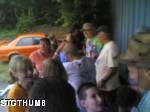 Circumspector and I were the last ones to leave the beer stop, so we were on our own. We were doing fine until we wandered into a well-fenced retention pond. We floundered around in the thorns for a while, and finally escaped by crawling under the fence in a drainage channel into the apartment complex next door. The tenants over there looked at us like they had never seen two scratched and muddy people crawl under their fence before.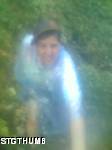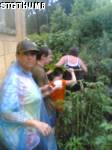 We got to the end, which was indoors, and began snacking on orange food and cold beverages. Circumspector asked me to take this picture of her changing clothes. Then she talked with Foreign Lession for a while, and then MC ran a superb circle. The usual small-world-hash thing happened when the virgin announced that a family friend named "Don [deleted]" had told him about the hash years ago, and he (the virgin) was finally attending a hash after wanting to do it for years. Circumspector and I have of course hashed with Don [deleted] (Hat Trick) many times in south Florida. The usual shuttling ensued, followed by Mexican food nearby, followed by us making our escape to go see Circumspector's sister in Lawrenceville.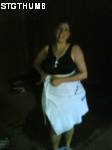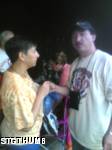 posted at: 21:39 | permalink |