Building a Bike for Tour de Bar
Tour de Bar is an annual event, held every year on a Saturday in June. Several hundred people gather with their bicyles at a local bar, and ride from bar to bar during the afternoon. Nobody is in charge, but the word starts spreading a few weeks beforehand. Somebody calls all the bars to let them know we are coming, and everything else just takes care of itself.

For years I've wanted to build a side-by-side tandem, where you take two bikes and connect them. I've thought about a sidecar style, but didn't want to pedal it all by myself. This year I finally sprang into action. The weekend before the event we went to a thrift store and got two bikes for $19.91 each. I thought about getting two adult bikes, so they'd be the same size, but figured that making one of the bikes a kid's BMX-style bike would add to the bizarre-o factor. Here you can see the bikes in their initial mockup. The blue tape represents the metal tubing to be added, and shows us where we might have bike-to-foot conflict.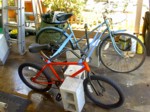 Time to get to work. I fishmouthed the first piece of tubing with my angle grinder, then sanded the paint off the frames where the tubing would attach. I got the welder into position, ready to go. (You can't see it, but I am wearing safety glasses in the first picture. Usually I wear a face shield as well, but...)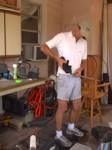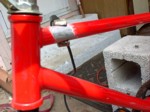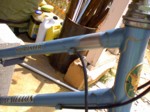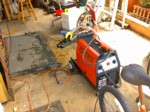 The first piece of tubing went into place pretty easy. It's just a piece of 1" EMT conduit. I had planned on using an oxy/acetylene torch, but when I got it out I realized that I had left a valve open, and the acetylene tank was empty. I had to use the mig instead. It turned out to be a whole lot easier. The mig is like a big hot glue gun. It's jigged up and ready to go. No action shots of the welder, though.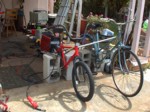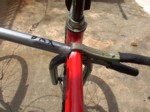 Now it was time to move to the back of the bike. The tubing here had to be smaller, to match to bike tubing. Cheapo EMT wasn't going to cut it. Fortunately I had a box of 4130 tubing just lying around. While I fishmouthed the tubing, Linda sanded down the bike frames where it would go. Then she welded it into position. We added a second tube below the first, and took it for a test drive.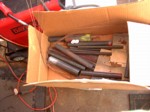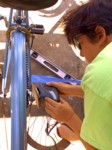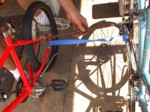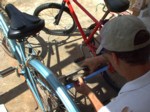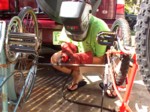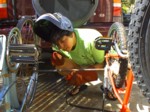 It worked pretty good, although it was exciting trying to steer the bike by coordinating both handlebars. There was too much flex at the rear from the small tubes. I figured some gussets might help. I had lent out my chop saw, so I used the angle grinder to cut the gussets from 1/8" flat bar.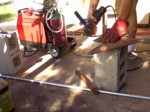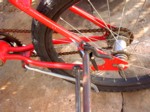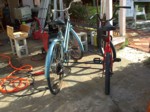 That was enough work for one day. It was time to quit. We didn't have a chance to get back to it until Friday evening, the night before the event. I had been thinking about the steering, and finally thought of using spherical rod ends. We had a couple old ones from the race car, which were just the right size. Linda got the nuts and bolts we would need, and we got to work.

I started by welding tabs of 1/8"x1" flat bar onto both handlebars, to act as steering arms. We had to make sure that the effective length of both arms was the same, so we had equal steering. Then I welded bolts onto the ends of both arms to accept the rod ends. Then I used a length of 1/2" EMT as the tie rod. I welded nuts into both ends to take the rod ends. A little cleanup with the grinder, and we were done for the evening.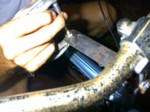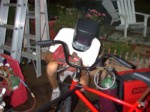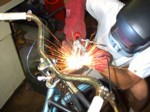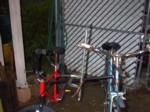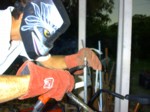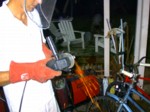 The next morning we still had a little more work to do. The bike was too unstable with both people trying to steer, so we cut the handlebars off the BMX bike, and welded them to a solid post, so they would provide support for the rider.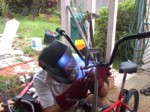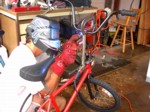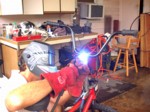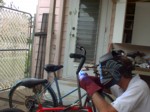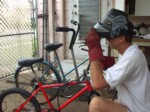 It worked pretty good on the test ride, but there was too much flex. Time for another gusset. That did the trick, and stiffened everything right up.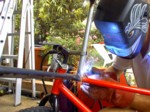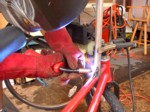 We hit the bare metal with some black spray paint, and loaded the bike onto the trailer. The event went great. The big was a big hit, and performed flawlessly. It even handled the big downhill over Blue Heron Bridge after the first four bars.

We took it out to the bike hash the next day, but the terrain was so rough we just left it on the trailer. I was able to get rid of the bike a couple days later, to a friend who liked it, and has a garage. He told me he's got it painted red, white and blue now. I hope he has fun with it.

I'm thinking of trying it again next year. This time, I'd like to use two equal-sized bikes, and put a Lazy Boy recliner between them. I think it would work out pretty well. Watch this space.