Houston, We Have Closure
After I let the ski set for five weeks without running it, I knew it was time to let go. I put it on eBay. Lots of questions, but no bids. So I dropped the price by a couple hundred dollars, put it back up. Got a few bids, and then Jay emailed and asked if I'd end the auction and sell it to him, if he paid the listing fee. He would pick it up that day or the next. I figured sure, I could end it and not have to spend any more time on the auction. Long story short, it took two weeks, but we did the deal. Jay checked it out thoroughly, made sure it ran, listened to the engine closely, and finally loaded it onto his truck. The best part is, the friend he brought with him to help, knew my neighbor across the street, so they got to hang out after the sale.

Here's a couple shots of the ski in the back of Jay's truck, on its way to its new home. It's going to be a surprise gift to Jay's wife, so they can ride together.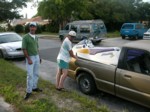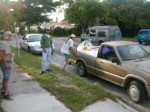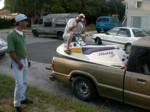 The End
Update!!
Jay sent me some pictures of him riding the ski. Looks like it's enjoying life in its new home.