How I Got a Jet Ski
Hey, Do You Want A Jet Ski?
So my friend Mark had this jet ski sitting on his dock. Hadn't run for a couple years, although he did try to start it last year, with no luck. He talked about getting rid of it, and then his homeowner's association cited him, so it had to go.

I borrrowed a dolly from Kent, because the dock is pretty far from pavement, and there's no way we could get the truck in there. We still had to wrestle it around some on the dolly, but it was way easier than trying to move it by hand. I didn't take any pictures of the ski at the dock, because we were working too hard, but here's a shot of it resting comfortably in my carport. Did I mention there's no trailer?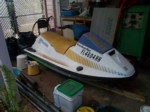 It's a 1991 SeaDoo SP, with a 580cc two-stroke Rotax engine. According to Mark there's nothing wrong with the ski, except it doesn't run. I was expecting to clean out the fuel tank, replace the fuel lines, and rebuild the carburetor, and have it running. I pulled off the carb, and found water in the intake manifold. Hmmm. So I charge the battery, pull out the plugs, and spin the engine. Water sprays out the spark plug holes. So I pull the head, and see a small amount of water in the cylinders. But when I stick my fingers down the exhaust ports, I can feel standing water in the exhaust manifold. Not good. Kent tells me I need to disassemble the engine and check the bearings for wear. Darn.

Meanwhile I found a trailer on eBay for $105. It's not bad, but it's not in the "excellent shape" the seller advertised. It's going to need a new taillight and connector, and one of the tires doesn't look too good. At least it wasn't too difficult to wrestle the ski onto the trailer.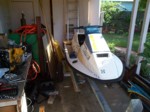 I got a manual from the library, and started in. I had to go to Sears to get a stubby 13mm wrench to get one of the exhaust pipe bolts off (it was boxed on three sides). It's an aftermarket pipe, so it may be a little harder to get out than the stock pipe. It's cast aluminum, and the paint is coming off in sheets, so it needs Jet Hot, or spray paint, or something.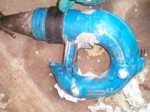 Other than that, it wasn't too hard, just really hot out in the carport. And everything I touched was covered with oil from the bilge. I was working by myself, so I used a chain hoist to pull the engine out, rather than try to lift it myself. And here it is.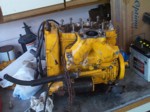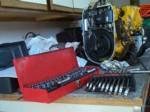 I'd really like a nice clean air conditioned garage to work in, but I guess the carport will have to do. The hull was really dirty. It had a mix of water, two-stroke oil, and dirt in it. It was tough to get the engine out because everything was slippery. And when I dropped a wrench it would fall in the oily water under the engine. Every time. Here's a couple shots of the bilge. It's a lot cleaner now, but I didn't take any pictures of the clean bilge. If you look closely you can see that three of the four motor mounts are sheared off.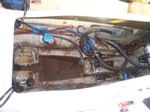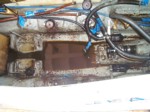 One of the things I read in the manual is that when you attach a garden hose to flush with, you have to have the engine running before you turn it on. If you run the hose with the engine stopped you can fill it up with water. So maybe someone flushed it improperly, and that's how water got in there. I did do the carb rebuild last week. It should be ready to go when the engine is back together. There was no carb base gasket, so that may have been contributing to the problems.

Next is to tear it down far enough to inspect it, and hopefully find no problems and put it back together. I can get a rebuilt long block off the internet for $699 plus tax and shipping, so that's an option. Or I can just get rid of it on eBay. What I want to do now is get the hull and trailer out of my carport while I work on the engine. I guess I'm making a trip to my favorite storage yard this week.

Next we look at the engine.

###