We were going to Hedon for the Memorial Day weekend, and figured we might as well take the opportunity to do some more Georgia mountain biking. Last year we drove up with the bikes, stopping at San Felasco in Gainesville, the Thompson trail near Macon, and then doing Blanket's Creek near Bruce's house in Marietta. The memory of the 10 hour drive home after the fantasy that was Hedon was still fresh in our minds. The only photo I have of that trip is this one, of Rob during the long drive back. This year the three of us (John Smith joined us) opted to fly up there, ship the bikes, and rent a car. This may or may not have been a good idea.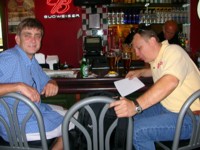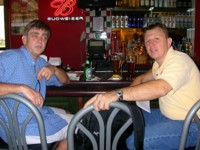 The three of us got tickets on AirTran. We had a little quiet time at the airport before our flight left, so we discussed our itinerary for a while.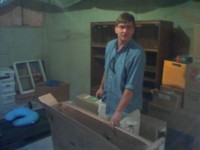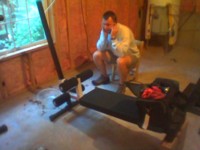 Bruce and Julie tried hard, but FedEx was unable to get the bikes delivered by Wednesday, even though we gave them two extra days. John, Rob and myself flew in Wednesday evening. We got a Chevy Astro van at the rental place and headed up to Bruce and Julie's house for sleep. Early next morning John got on the phone while I slept, then he and Rob headed out. At 8:30 am they returned with the bikes. John had convinced the driver to meet them on the street as the driver left his house. I was impressed. We got busy assembling the bikes, which wasn't difficult, as Bikes and Bargains had once again done an excellent job of packing the bikes. You can see us in the basement. Rob is starting to unpack, while John continues to work the phone.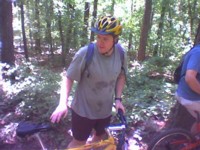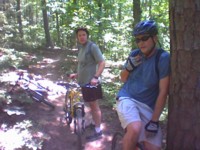 We got the back seat out of the van, and the bikes loaded, including Bruce's. This just about the time Bruce returned from his oh-so-important meeting, so we boarded the van and set out. Our first ride was at good old Blanket's Creek. John was suffering from some kind of viral death infection, so he slept in the van. Rob, Bruce and I rode the intermediate loop that we had all seen before, and then we came across the advanced loop. Rob and I sort of remembered riding it with Tom Wooten the previous year, so we all jumped on it. What a great trail! Lots of downhill, with climbs that weren't too steep or sustained. All too soon we were back in the parking lot, where we found John still alive.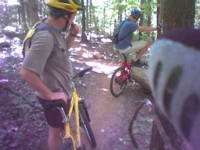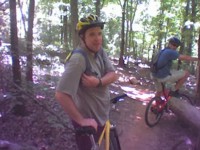 I insisted on going to the grand opening of the Performance Bike retail store in Roswell. I buy a lot of stuff online from www.performancebike.com, so I wanted to see what they were like in person. They were pretty good. They were of course lacking the selection that an online store has, but if I lived in Atlanta I would make them my primary bike store. We did wonder about the employee who had "187" tatooed on his neck, but I figure that's his business. All of us bought something there, either a flashy jersey (Rob) or cheap sunglasses (Bruce) or a multi-tool (Dave) or 24 Carbo-Boom gel packs (John).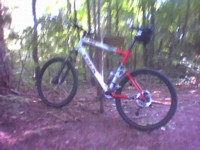 We had lunch at Moe's, which is a Mexican place. We should all hate Moe's because they are a soulless restaurant franchise that is destroying small local Mexican places like The Raging Burrito, but their food is not bad. After that we had a long drive up to Chicopee, near Gainesville, GA. As we pulled in we saw a lot of cars, and an offical-looking tent. After some investigating we found that they were running time trials that day. But not to worry, the time trial loop was a short section, and all of the other trails were open. Once again John slept in the van, while the other three took off riding. Actually, John walked down the trail a ways before us, to position himself to get good shots of us. That plan was foiled by Rob's out-of-control style, which brought him slidng around a corner, inches away from John. John did a get a blurry photo of Bruce, which I hope to post here. Once John had returned to the car, the three of us began exploring the trail. Long downhills, followed by long uphills, and repeat. The downhills were the first time I had ever seen a real need for disk brakes. We were able to keep control on the downhills without braking too badly, but it was ... exhilarating. The uphills were the reverse of the downhills. Long sustained climbs, which usually had us walking by the top. The best strategy was to sit and spin in a low gear. This worked until the slope grew too steep, at which point you had to stand and spin, while placing your bodyweight in precisely the right position. Too far back and the front wheel would lift and you would lose control. Too far foward and the back wheel would spin and you would slide back down.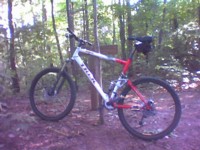 We were all doing great until I hit a steep uphill wooden bridge. I stood up in the saddle, and my massive leg strength caused my chain to snap. No problem, I though, as I had bought a handy new multitool with chain breaker at Performance Bike that morning. Unfortunately I had lost my little box of chain rivets sometime in the last three months. So the other two went on without me. I scouted around until I came to a right-of-way. I climbed to a hill in the right-of-way, and I could actually see the car, about a mile away. So I started bushwacking, with the bike on my back. What I quickly learned was that there were five deep ravines in the way. And they were all covered with thorn plants. So when I reached the car I was pretty bloody. But at least I beat in the two guys who had working bikes.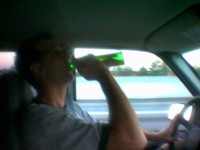 We loaded up. On the way back to the highway we passed a store advertising 29 degree beer. We had to stop, and soon I was enjoying an ice-cold Becks (NA of course). We found dinner at the Three Dollar Cafe in Marietta, and watched the Heat win. Finally John and Rob went off to their motel room where John was going to try and recover, and Bruce and I went back to Bruce's house.


It was easy to get rolling the next morning, as all the gear was in the car. We headed for Carter's Lake in Ellijay. After a few wrong turns (Hwy 282, not Hwy 382) we found it. John was feeling much better today, so our foursome set out to explore the trail. It was even better than Chiopee. It had downier downs, and uppier ups. The climbs often led to pushing the bike, but the descents were a great new experience to people from a flatland state. We got better at managing our kinetic energy, so that speed from a descent could be applied to the start of a climb. The best descents came near the end, after which we lay around the parking lot for a few minutes to recover. Bruce had to leave us, in his vehicle. This had been the only trail that all four of use would ride together. Rob, John and I continued to some sort of Calico Cupboard in downtown Ellijay. After that it was on to Bear Creek. Here Rob opted out of the afternoon's actvities, claiming he was tired. John and I set out, with a set of directions and a topo map. We had to make several stops, though, as something in the collard green at the Calico Cupboard had affected our digestion. This portion of Bear Creek seemed to be a long (four or five mile) gradual climb. Eventually we got tired and checked the map for a shortcut back to the van. We found one, which turned out to be all downhill. It was the longest, fastest descent of the trip. Rob was sitting by a creek at the trailhead, and said he could see and hear us descending through the trees. What a ride!


Eventually it was time to go, so we saddled up and headed back to Marietta. We would have to reconfigure the vehicle package before continuing on to Hedon. Along the way we did find a beverage store, which supplied the lime juice, rum, and Bailey's Irish Cream necessary for the shot known as the Cement Mixer. But more on that later. Right now I want to savor the trails we rode, and figure out how we are going to get to ride some more.